Mankiller Poems: The Lost Poetry of the Principal Chief of the Cherokee Nation (Paperback)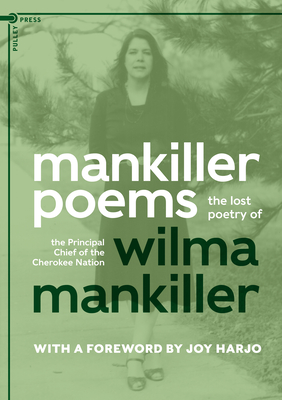 $18.00

We can order this book for you! This will delay shipping your book by 2 - 7 days.
Description
---
Wilma Mankiller was not known as a poet. With a tip from her husband, Charlie Soap, and her friend, Kristina Kiehl, Pulley Press founders learned that Mankiller had been writing poetry throughout her life. After searching through her barn at Mankiller Flats in Adair County Oklahoma, Greg Shaw and Frances McCue located 19 of the 20 poems published here. The 20th came from the collection of Kristina Kiehl. The poems show Mankiller's engagement with her own artistry and reflection upon her life, particularly her Native heritage and the role of women in the world.
Readers of Mankiller Poems might include other poets, amateur and professional historians, those interested in America's indigenous heroes, women's rights activists, political and civic leaders, young adults who are interested in leadership and all those who want to see another side of an inspiring leader. How the Chief of the Cherokee Nation wrote poems as a means of reflection on her life reveals a unique perspective on how art, and these poems in particular, may have enhanced Mankiller's own leadership. Her empathy is palpable and her quick wit and loving temperament, all wrapped in the artistry of verse, shines here.
About the Author
---
Wilma Mankiller (1945-2010) served as Principal Chief of the Cherokee Nation for more than ten years. She was the first woman elected as Deputy Chief (1983) and then as Principal Chief (1985-1995), a role that years of work as a community activist for the tribe. The Bell Water project, an endeavor in which Mankiller took a leadership role, is depicted in The Cherokee Word for Water, a feature length dramatic film directed by Tim Kelly and her husband, Charlie Soap. Mankiller was born in Tahlequah, Oklahoma and lived much of her life on her grandfather's allotment in Adair County. When Mankiller lived in The Bay Area (1957-1976), she founded a youth center in Oakland, supported the Reoccupation of Alcatraz and participated in other work of the American Indian Movement. She returned to Oklahoma with her two young daughters 1976. In 2010, Mankiller won the nation's highest civilian honor, the Presidential Medal of Freedom. Her likeness is appearing on the US Mint's quarter-dollar coin. Contributor #1 Mark Trahant, a citizen of the Shoshone-Bannock Tribes, is editor-at-large for Indian Country Today and leads the Indigenous Economics Project for ICT. Trahant has been a professor at the University of North Dakota, the University of Alaska Anchorage, the University of Idaho, and the University of Colorado. He is a member of the American Academy of Arts and Sciences. Contributor #2 Joy Harjo is an internationally renowned performer and writer of the Muscogee (Creek) Nation. She is serving her second term as the 23rd Poet Laureate of the United States.The author of nine books of poetry, including the highly acclaimed An American Sunrise, several plays and children's books, and two memoirs, Crazy Brave and Poet Warrior, her many honors include the Ruth Lily Prize for Lifetime Achievement from the Poetry Foundation, the Academy of American Poets Wallace Stevens Award, two NEA fellowships, and a Guggenheim Fellowship. As a musician and performer, Harjo has produced seven award-winning music albums including her newest, I Pray for My Enemies. She is a chancellor of the Academy of American Poets, Board of Directors Chair of the Native Arts & Cultures Foundation, and is the first Artist-in-Residence for Tulsa's Bob Dylan Center. She lives in Tulsa, Oklahoma.