Twelve Dinging Doorbells (Hardcover)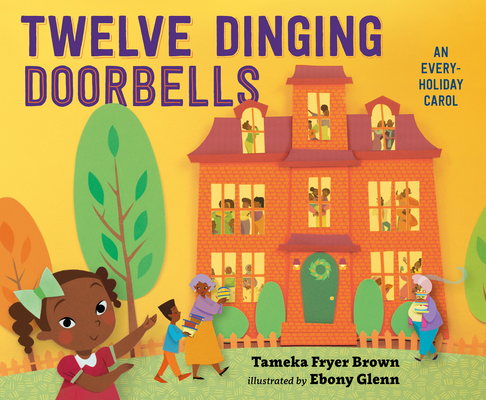 $17.99

We can order this book for you! This will delay shipping your book by 2 - 7 days.
Description
---
A cumulative all-holiday carol packed to the brim with family, food, love, and Black joy, especially perfect for Thanksgiving, Christmas, graduations, and all family celebrations.

Every holiday, aunties, uncles, cousins, grandparents, and neighbors come over to eat, sing, and celebrate life. But all our main character can think about is the sweet potato pie Granny makes just for her. As tables fill with baked macaroni and cheese, chitlins, and other sides a-steaming, she and Granny move the pie to keep it intact. The task becomes tricker as the room grows with dancing and card games and pie cravings. Just when all seems lost and there's no more pie, Granny pulls out a sweet surprise. 
 
Written to the tune of "The Twelve Days of Christmas," Twelve Dinging Doorbells is exuberant. Author Tameka Fryer Brown's cumulative rhyme is impossible to resist, and the humorous details in Ebony Glenn's cut-paper collage will welcome readers to this party again and again.
About the Author
---
Tameka Fryer Brown wrote Around Our Way on Neighbor's Day, My Cold Plum Lemon Pie Bluesy Mood, and Brown Baby Lullaby. She is also a contributor to The Brown Bookshelf, an award-winning website dedicated to highlighting Black children's authors and illustrators. She is based in Charlotte, North Carolina.


Ebony Glenn is an Atlanta-based illustrator. She has a passion for the arts, great storytelling, making new things, and advocating for more diverse narratives in children's books. Ebony is the proud recipient of the 2018 Wonders of Childhood Focus Fellowship given by AIR Serenbe, a nonprofit artist residency program of the Serenbe Institute. Visit ebonyglenn.com and follow her on Instagram @artsyebby.

Praise For…
---
Praise for Twelve Dinging Doorbells:

★ "This vibrant celebration of African American families, fun, and culture will be a great addition to library collections."
—School Library Journal, starred review

★ "A new classic."
—Kirkus Reviews, starred review

★ "Revamping 'The 12 Days of Christmas' to sweetly bustling effect, Fryer Brown pens a lively refrain…It's a lovingly chaotic portrayal with a pleasingly ample feel."
—Publishers Weekly, starred review