Cults: Inside the World's Most Notorious Groups and Understanding the People Who Joined Them (Hardcover)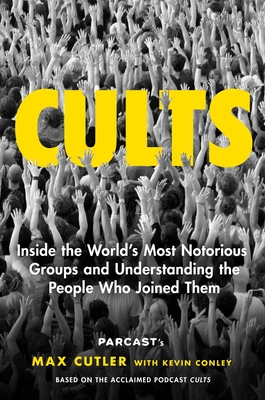 $29.99

We can order this book for you! This will delay shipping your book by 2 - 7 days.
Description
---
Mystery. Manipulation. Murder. Cults are associated with all of these. But what really goes on inside them? More specifically, what goes on inside the minds of cult leaders and the people who join them? Based on the hit podcast Cults, this is essential reading for any true crime fan.

Cults prey on the very attributes that make us human: our desire to belong, to find a deeper meaning in life, to live everyday with divine purpose. Their existence creates a sense that any one of us, at any time, could step off the cliff's edge and fall into that daunting abyss of manipulation and unhinged dedication to a misplaced cause. Perhaps it's this mindset that keeps us so utterly obsessed and desperate to learn more, or it's that the stories are so bizarre and unsettling that we are simply in awe of the mechanics that make these infamous groups tick.

The premier storytelling podcast studio Parcast has been focusing on unearthing these mechanics—the cult leaders and followers, and the world and culture that gave birth to both. Parcast's work in analyzing dozens of case studies has revealed patterns: distinct ways that cult leaders from different generations resemble one another. What links the ten notorious figures profiled in Cults are as disturbing as they are stunning—from Manson to Applewhite, Koresh to Raël, the stories woven here are both spellbinding and disturbing.

Cults is more than just a compilation of grisly biographies, however. In these pages, Parcast's founder Max Cutler and national bestselling author Kevin Conley look closely at the lives of some of the most disreputable cult figures and tell the stories of their rise to power and fall from grace, sanity, and decency. Beyond that, it is a study of humanity, an unflinching look at what happens when the most vulnerable recesses of the mind are manipulated and how the things we hold most sacred can be twisted into the lowest form of malevolence.
About the Author
---
Max Cutler created and founded Parcast Studios in 2016. With Cutler at the helm, Parcast has launched some of the most popular and highly-ranked weekly podcasts, specializing in popular genres like mystery, true crime, pop culture, wellness, and history. After three years of exponential growth, Spotify acquired Parcast in 2019. Cutler maintains his role as head of the studio, revolutionizing the podcast space and creating hit after hit. Most recently featured on Fortune's 40 Under 40, Forbes' 30 Under 30, and The Hollywood Reporter's 35 Rising Executives Under 35 lists, Cutler shows no sign of slowing down, as Parcast continues to lead the industry in global growth with over fifty adaptations to date and more to come.

Kevin Conley is the author of the national bestseller Stud: Adventures in Breeding and The Full Burn: On the Set, at the Bar, Behind the Wheel, and Over the Edge with Hollywood Stuntmen. A former editor at The New Yorker, he has written for GQ, Sports Illustrated, and The New York Times Magazine, among others. He lives with his family in Connecticut.
Praise For…
---
"Utterly addictive." —The New York Times Book Review

"Chilling….Cutler insightfully explores what attracts people to cults and the psychology of their leaders." —Publishers Weekly

"Shocking… Cutler's focus is both narrative, detailing the story of the leader's upbringing and the cult's rise and fall, and also probing: Cults is interested in motivations and, to the extent possible, diagnoses… Not for the faint of heart but absolutely for the true-crime junkie, Cults is packed with details and unafraid to posit theories to explain these superlatively weird and scary stories." —Shelf Awareness

"Chilling accounts of the infamous, from Manson to Jones to Koresh and names that we may have forgotten...goes beyond the headlines into the very souls and psyches of...notorious cult leaders and their manipulated victims....Fans of Cutler's (and similar) podcasts and true-crime aficionados will appreciate this enthralling exhibition." —Booklist

"An introduction into the fascinating world of cult leaders….Well researched and well organized." —Kirkus Reviews