The Cat at Night (Hardcover)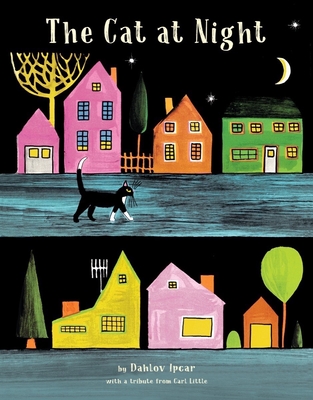 Description
---
The golden jubilee edition of a children's classic first published in 1969.
Join the farmer's cat on his fascinating nighttime journey through fields, farms, forests, and even the city to see what only he can see after the sunsets.
Legendary artist Dahlov Ipcar mesmerizingly alternates between dark night scenes and vivid color to deliver a beautifully illustrated children's classic. Each scene is shown first as a human would see it at night in blacks and whites, and then as a cat sees it in with vivid color and fine detail.
This commemorative edition features new back matter about Dahlov's children's books from her biographer, poet and art critic Carl Little.
About the Author
---
Dahlov Ipcar was born in Vermont, raised in Greenwich Village, and summered in Maine after her parents (the famed sculptor William Zorach and artist Marguerite Zorach) bought a farm there in 1923. Dahlov moved from New York City to the farm with her husband in 1937. Her children's book career began in the early 1940s, when she illustrated The Little Fisherman by Margaret Wise Brown. This charming title helped launch a four-decade run that saw her write and illustrate more than thirty children's books of her own. Today, her artwork is known worldwide. Dahlov Ipcar kept creating until her death in 2017, at age 99.

Carl Little is the author of William Irvine, A Painter's Journey, Edward Hopper's New England, The Watercolors of John Singer Sargent, The Art of Dahlov Ipcar, and Eric Hopkins: Above and Beyond - which won the first John N. Cole Prize from Maine Writers and Publishers Alliance. He is a regular contributor to Art New England, Ornament, and Maine Boats, Homes & Harbors. An ex-New Yorker, Little moved to Maine in 1989; he has written and lectured on Maine art ever since. His poetry has appeared in a wide range of journals as well as in Ocean Drinker: New & Selected Poems and two anthologies edited by Wesley McNair. A resident of Somesville on Mount Desert Island, Little is director of communications and marketing at the Maine Community Foundation.
Praise For…
---
This is an underappreciated classic. It follows a cat on his nightly journey through a farm and the surrounding area, all the while comparing what humans see to what a cat sees. Artwork is always important to me—I grew up wanting to be a children's book illustrator—and this has some of the boldest pictures of any picture book. The drawings, like Matisse cutouts, show what a human sees (black silhouettes against gunmetal blue skies) and then what a cat sees (pinks and greens and yellows). Kids feel close to animals—there's a natural kinship—so seeing the world through a cat's eyes has a certain primal appeal.


— Dave Eggers, award-winning author ("What is the What", "Zeitoun"), editor, journalist, publisher and screenwriter.