The Crying Book (Paperback)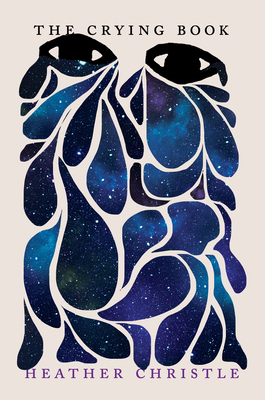 $16.95

We can order this book for you! This will delay shipping your book by 2 - 7 days.
November 2019 Indie Next List
---
"To be a writer is to be both in constant awe and in constant envy of other writers. Heather Christle is no exception. She is a writer to whom a world of poets look for playful imagery and careful affect. The Crying Book is not billed as poetry, but it's not prose—it's something very deeply embedded between genres. There are no line breaks, but there is lyricism and a poetic philosophy of the intimate relationship between things: tears, grief, war, motherhood, friendship, partnership, science, history. The literary world has already likened it to Maggie Nelson's Bluets, but Christle's work seems to me more delicate, as though each turn of a tear-soaked page allows readers the permission, as Christle puts it, to be held. And to be held by a book is, I think, exactly what a reader craves."
— Lauren Korn, Fact & Fiction Downtown, Missoula, MT
Description
---
NATIONAL BESTSELLER

"A poignant and piercing examination of the phenomenon of tears—exhaustive, yes, but also open-ended. . . A deeply felt, and genuinely touching, book." —Esmé Weijun Wang, author of The Collected Schizophrenias

"Spellbinding and propulsive—the map of a luminous mind in conversation with books, songs, friends, scientific theories, literary histories, her own jagged joy, and despair. Heather Christle is a visionary writer." —Leni Zumas, author of Red Clocks

This bestselling "lyrical, moving book: part essay, part memoir, part surprising cultural study" is an examination of why we cry, how we cry, and what it means to cry from a woman on the cusp of motherhood confronting her own depression (The New York Times Book Review).

Heather Christle has just lost a dear friend to suicide and now must reckon with her own depression and the birth of her first child. As she faces her grief and impending parenthood, she decides to research the act of crying: what it is and why people do it, even if they rarely talk about it. Along the way, she discovers an artist who designed a frozen–tear–shooting gun and a moth that feeds on the tears of other animals. She researches tear–collecting devices (lachrymatories) and explores the role white women's tears play in racist violence.

Honest, intelligent, rapturous, and surprising, Christle's investigations look through a mosaic of science, history, and her own lived experience to find new ways of understanding life, loss, and mental illness. The Crying Book is a deeply personal tribute to the fascinating strangeness of tears and the unexpected resilience of joy.
About the Author
---
Heather Christle is the author of the poetry collections The Difficult Farm; The Trees The Trees, which won the Believer Poetry Award; What Is Amazing; and Heliopause. Her poems have appeared in The New Yorker, London Review of Books, Poetry, and many other journals. She teaches creative writing at Emory University in Atlanta. The Crying Book is her first book of nonfiction.
Praise For…
---
The New York Times Book Review, Editors' Choice
Long–listed for the Believer Book Award for Nonfiction
A Georgia Author of the Year Awards Nominee

"Christle tenderly engages the unsavory aspects of sadness until they become less strange. Rather than denying that self–pity can be pleasurable, she reveals how that pleasure comes from enfolding oneself in imagined care. The book inhabits an ambivalent zone between the acknowledgment that adult women have needs and the author's fear that she has too many needs nevertheless." —Katy Waldman, The New Yorker

"[A] lyrical, moving book: part essay, part memoir, part surprising cultural study." —The New York Times Book Review

"[An] indelible book . . . [Christle is] fully aware that tears aren't always to be trusted, even though they can come unbidden and unwanted—the reflexive byproduct of overwhelming emotion. She conveys her beliefs and suspicions in discrete paragraphs of text, quoting lines of poetry, personal correspondence, psychological studies . . . She's drawn to metaphor, even though 'it is dangerous to always think one thing is another.' To insist on anything too permanent is to lay a trap. The kind of metaphor Christle seeks is at once truer and more tenuous." —Jennifer Szalai, The New York Times

"Christle explores the mystery of tears while mining her own sorrows in this intelligent, compelling read." —Kim Hubbard, People

"Poet Heather Christle's book is about more than crying. As she reflects on the loss of a close friend to suicide and her own battle with depression, Christle asks why and how we cry and what it means, especially for women, to do so. But in The Crying Book, the author's blend of personal experience and scientific research gives way to broader discussions about motherhood, mental health, grief and art." —Annabel Gutterman, Time

"Invigorating . . . Unique and inspired . . . 'They say perhaps we cry when language fails, when words can no longer adequately convey our hurt,' Christle muses. But with The Crying Book, language hasn't failed. Precisely the opposite. She's used her gifts as a poet to get at the heart of why sadness arrives and how it affects us." —Alexis Burling, San Francisco Chronicle

"The book's effects are sly and cumulative, relying not so much on any one observation as on associations, echoes, contrasts—a method that reflects Christle's view of art and life, the interdependence, the complex contagion and repetition of feeling and action and reaction that marks them . . . It's about grief and friendship, but only delicately so. Christle wants to preserve the particularity of experiences while illuminating what they have in common. Again and again she emphasizes that separation: 'It is dangerous,' she insists, 'to always think one thing is another, every event a metaphor for another.' This is also to say that writing itself is dangerous, as well as essential." —Lidija Haas, Harper's Magazine

"Christle is a poet, and her prose shows it. You will surely end the book knowing much more about tears than when you started . . . Christle invites us into her sadness and along the way manages to unlock the beauty within." —Jonathan Foiles, Psychology Today

"Heather Christle's new book is a combination of personal musings about depression, childbirth, and motherhood, and fascinating researched tidbits about crying—its history, its use in literature and pop culture, its politics, and the science behind it all. Basically, it's Maggie Nelson's Bluets, but about crying, and it's every bit as dazzling as the stars that dot its cover." —Cristina Arreola, Bustle

"The Crying Book is a roving history, spanning a remarkable cast of grief experts showcased in wide–ranging vignettes . . . With a poet's touch, gentle and delightfully promiscuous, Christle moves fluidly across disparate disciplines and between her sources' professional and personal lives." —Fathima Calder, Guernica

"Yes, this is a whole book on crying, and it's sad and also beautiful . . . It's a gorgeous book. Everything from the cover to the ideas to the sentences is moving and sometimes, in spite of what you might expect given the subject matter, comforting. Readers who like the fragmentary style of Sarah Manguso and Maggie Nelson will want to get a copy." —Rebecca Hussey, Book Riot

"An eclectic reflection on human waterworks . . . The unconventional format, combined with the author's vast survey of the topic, provides fascinating food for thought. A surprisingly hopeful meditation on why we shed tears." —Kirkus Reviews

"Readers are sure to be moved to tears themselves. This is a lovely meditation on life and death through the lens of tears, both those spurred by grief and those by joy." —Booklist

"In The Crying Book, Heather Christle makes a poignant and piercing examination of the phenomenon of tears—exhaustive, yes, but also open–ended, such that I was left clutching this book to my chest with wonder, asking myself when the last time was that I cried, and why. A deeply felt, and genuinely touching, book." —Esmé Weijun Wang, author of The Collected Schizophrenias