Reparations Now! (Paperback)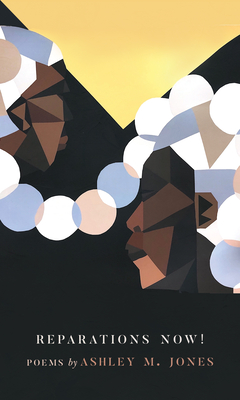 Description
---
Reparations Now asks for what's owed.
In formal and non-traditional poems, award-winning poet Ashley M. Jones calls for long-overdue reparations to the Black descendants of enslaved people in the United States of America. In this, her third collection, Jones deftly takes on the worst of today--state-sanctioned violence, pandemic-induced crises, and white silence--all while uplifting Black joy. These poems explore trauma past and present, cultural and personal: the lynching of young, pregnant Mary Turner in 1918; the current white nationalist political movement; a case of infidelity. These poems, too, are a celebration of Black life and art: a beloved grandmother in rural Alabama, the music of James Brown and Al Green, and the soil where okra, pole beans, and collards thrive thanks to her father's hands.

By exploring the history of a nation where "Black oppression's not happenstance; it's the law," Jones links past harm to modern heartache and prays for a peaceful world where one finds paradise in the garden in the afternoon with her family, together, safe, and worry-free. While exploring the ways we navigate our relationships with ourselves and others, Jones holds us all accountable, asking us to see the truth, to make amends, to honor one another.

About the Author
---
Ashley M. Jones is the 2022-2026 Poet Laureate for the state of Alabama. She holds an MFA in Poetry from Florida International University, and she is the author of Magic City Gospel and dark / / thing. Her poetry has earned several awards, including the Rona Jaffe Foundation Writers Award, the Silver Medal in the Independent Publishers Book Awards, the Lena-Miles Wever Todd Prize for Poetry, a Literature Fellowship from the Alabama State Council on the Arts, the Lucille Clifton Poetry Prize, and the Lucille Clifton Legacy Award. She was a finalist for the Ruth Lily Dorothy Sargent Rosenberg Fellowship in 2020. Her poems and essays appear in or are forthcoming at CNN, POETRY, The Oxford American, Origins Journal, The Quarry by Split This Rock, Obsidian, and many others. She teaches at the Alabama School of Fine Arts, she co-directs PEN Birmingham, and she is the founding director of the Magic City Poetry Festival.