Myriad (Paperback)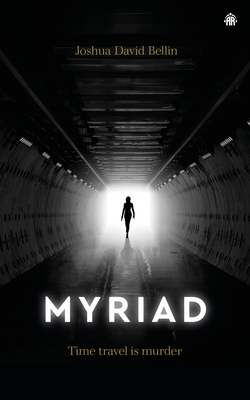 $17.99

We can order this book for you! This will delay shipping your book by 2 - 7 days.
Description
---
Myriad has been in so many timestrands she's lost count – hiding from her feelings about her brother's death she works to prevent crimes from happening but finds herself committing one instead…

Agent Miriam Randle works for LifeTime, a private law enforcement agency that undertakes short-term time travel to erase crimes before they occur. Haunted by the memory of her twin brother's unsolved murder at the age of six, Miriam thinks of herself as Myriad—an incarnation of the many lives she's lived in her journeys to rearrange the past.

When a routine assignment goes wrong and Miriam commits a murder she was meant to avert, she is thrown into the midst of a conspiracy that reaches to the highest levels of LifeTime. Along with her partner Vax, Miriam flees into the past in an attempt to unravel the truth before LifeTime agents catch up with her.

But then her brother's killer reappears, twenty years to the day since he first struck. And he's not through with the twin who survived, not by a long shot.

MYRIAD is a mind-bending time travelling sci-fi thriller that will keep readers guessing to the very end.

File Under: Science Fiction [ Myrioi | Baked In | Three Ravens | The Dark Backward ]
About the Author
---
Joshua David Bellin is a college teacher by day, and has published numerous works of fantasy and science fiction, including the two-part Survival Colony series, the deep-space adventure Freefall, and the Ecosystem series. In his free time, Josh likes to read, watch movies, and take long nature hikes with his kids. Oh, yeah, and he likes monsters. Really scary monsters.
Praise For…
---
"High-octane whirlwind thriller…like a Mission Impossible or a Minority Report with the addition of time-travel. Readers of sci-fi will enjoy this new take on a classic idea from Bellin"
– Library Journal

"Minority Report meets The Fugitive in this breakneck thriller that kept me guessing—and madly flipping pages—until the bitter end. The devious plot zips nimbly through wormhole after wormhole, but Bellin shines brightest in his nuanced exploration of the light and dark in all of us. Myriad is an antihero for the ages."
– Kat Ross, author of the Gaslamp Gothic Victorian Paranormal Mystery series

"Bellin weaves a spellbinding mystery with this timetravel, detective noir."
– Booklist

"Exciting and thought-provoking, Myriad posits a truly original twist on time-travel. Joshua Bellin's first adult novel hits all the right notes from its conflicted main character trying to undo a tragic, life-changing past event to multiple twists, turns, and surprises the reader won't see coming."
– Larry Ivkovich, author of The Sixth Precept and Magus Star Rising

"Joshua David Bellin's Myriad blends the time-travel genre with a compelling cast to tell the story of Agent Miriam Randle, a woman caught up in the Gordian knot of her brother's untimely death. As Miriam begins to unravel the strands of her tragic past, Bellin masterfully weaves suspense with non-stop action to create a heroine and a story that will be impossible to forget."
– Ginger Smith, author of The Rush's Edge

"Joshua Bellin's protagonist is traumatized by her past, and because of her job as a time cop, can't avoid reliving it. Myriad is a dark and clever exploration into the horror of getting answers to all your questions and, worse maybe, getting a second chance to make things right."
– R.W.W. Greene, author of The Light Years, Twenty-Five to Life and Mercury Rising

"Joshua David Bellin is a master craftsman. In Myriad, he's reached an all-time high for plot twists that rock your understanding of what has come before... and after. Enjoy the fast-paced action that will leave you dazzled."
– Diane Turnshek, Carnegie Mellon University astronomer and science fiction author

"Myriad is a clever time-travel premise wrapped up in a very human story of surviving trauma. An action-packed sci-fi thriller told with depth and heart, this book will grab you and not let go."
– Cadwell Turnbull, bestselling author of No Gods, No Monsters