Heart First Into the Forest (Paperback)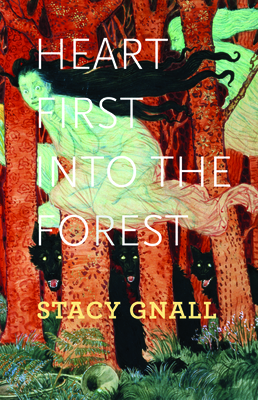 $15.95

We can order this book for you! This will delay shipping your book by 2 - 7 days.
Description
---
This debut collection wanders into the dark, enchanted territory of childhood fables. Poems are parables peopled with archetypes, birthing a world of spells and curses, of daughters betrayed by their own blood, of children vanishing in the woods, and, through it all, a singular heroine gradually emerging to triumph--her mind a butcher's block, her feet sprinting toward the twist.
With decadent fairy-tale rhetoric, wild child Stacy Gnall depicts a harrowing coming of age, luring us to indulge our anima.
About the Author
---
Stacy Gnall is from Cleveland, Ohio. She earned her undergraduate degree at Sarah Lawrence College and her MFA at the University of Alabama, and she is currently pursuing her PhD in literature and creative writing at the University of Southern California. Her poems have appeared or are forthcoming in The Cincinnati Review, The Florida Review, The Gettysburg Review, Indiana Review, The Laurel Review, The Spoon River Poetry Review, and Prairie Schooner. She lives in Los Angeles, California.
Praise For…
---
"Stacy Gnall's brilliant debut collection, Heart First into the Forest, explores those timeless yet inexplicable mysteries of worldly (and other-worldly) transformations we know from fable and fairy tale. With her exquisite lyric delicacy, Stacy Gnall weaves a candid, luminous perspective that reveals a forest whose intricate darkness can be lit, of course, only by the heart."David St. John
Heart First into the Forestmay just be that rare find in contemporary poetry: an utterly original work that manages to eschew weirdness to find real wisdom."Thom Dawkins, Weave Magazine
In this debut collection, Stacy Gnall sends out filament after filament of sound and sense, weaving webs of music and meaning which never fail to surprise me with their strength and subtlety. It's a rare pleasure to discover a young poet, or any other kind, so fully in possession of her craft."Joel Brouwer
"Heart First Into the Forest intoxicates with high altitude, mesmerizing, razor eloquence. Gnall's debut is a tightrope of risky equipoise, of embodied metaphor, bristling insight and gut. One reads with held breath. Here are brides that can't marry, magicians, mirrors, howls, strange trees. The book, part fairy-tale, part witchcraft, part female Poe, is a rare elixir of wonder and violence."Susan McCabe, author of Descartes' Nightmare