On Being a Teacher (Paperback)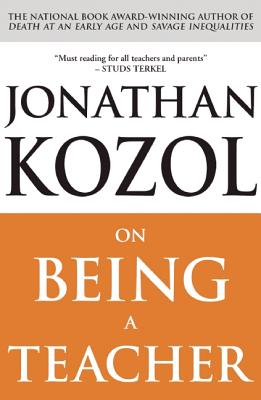 Description
---
A new edition of the seminal work

Jonathan Kozol, National Book Award-winning author and one of America's foremost writers on social issues, offers a passionate and provocative critique on the role of the teacher in America's public school system. Writing as a teacher, Kozol advocates an approach to education that is infused with ethical values: fairness, truth, and integrity, and a driving compassion for the world beyond the classroom. Kozol not only sheds light on what it means to be a teacher, but gives constructive suggestions on how teachers can work conscientiously within the system to foster these values in concert with parents, students and fellow teachers.
About the Author
---
Jonathan Kozol is award-winning author of Death at an Early Age, Savage Inequalities, Amazing Grace, and The Shame of the Nation. He has held two Guggenheim Fellowships, has twice been a fellow of the Rockefeller Foundation, and has also received fellowships from the Field and Ford Foundations. He has been working with children in inner-city schools for more than 40 years. He currently lives in Byfield, MA.
Praise For…
---
"Must reading for all teachers and parents"
— Studs Terkel