Lolo's Light (Hardcover)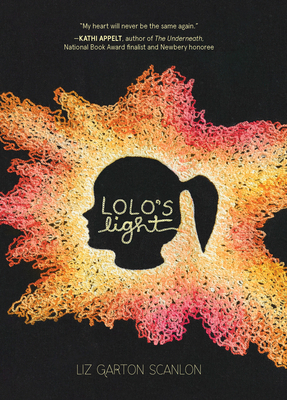 $16.99

We can order this book for you! This will delay shipping your book by 2 - 7 days.
Description
---
For readers who love The Thing About Jellyfish and Counting By 7s, Lolo's Light is a deeply honest middle grade novel about grief, redemption, and life as a kid facing both.

This is a truth about growing up: Once in your life, sometime after your first memory but before you can drive a car, something is going to happen to you that doesn't happen to anyone else you know. It might be something good. It might be something bad, or special, or funny, or shocking. For Millie, it's something really sad. Lolo, her neighbors' infant daughter, dies unexpectedly, suddenly, inexplicably, on the night Millie babysits.

It's not Millie's fault. There's nothing she could have done. And there's nothing she can do now.

So how does she go on?

She does what you'll do. She finds her way.

This poignant and profound coming-of-age story portrays a tragic experience of responsibility and its poisonous flip side: guilt. Emotional and important, this is an honest and empathetic portrait of a girl at her most vulnerable—a mess of grief, love, and ultimately, acceptance—who must reckon with those most difficult of demons: death . . . and life.

A GREAT WAY TO UNDERSTAND DIFFICULT FEELINGS: Coming to terms with one's responsibility for things both our fault and not is a universal experience that can be difficult to process, particularly when grief is involved. Millie offers a great blueprint for young readers who don't understand the surrounding emotions and need help working through them.

A MAIN CHARACTER KIDS WILL LOVE: Millie makes mistakes as she navigates grief. It's often not pretty, but it is very relatable. The author's honest portrayal of this experience will resonate with young readers, whether grieving or not.

Perfect for:

Middle grade readers
Educators and librarians
Parents looking for books on loss or grief
About the Author
---
Liz Garton Scanlon is the author of numerous beloved books for young people, including the highly acclaimed, Caldecott Honor–winning picture book All the World, illustrated by Marla Frazee; her debut novel for middle grade readers, The Great Good Summer; Another Way to Climb a Tree; In the Canyon; Bob, Not Bob!, coauthored with Audrey Vernick and illustrated by Matthew Cordell; and several others. Liz serves on the faculty of the Vermont College of Fine Arts and is a frequent and popular presenter at schools, libraries, and conferences. She lives with her family in Austin, Texas.
Praise For…
---
?- "In writing
Lolo's Light
, Garton Scanlon undertook a monumental challenge. The result is a compelling novel that glows with understanding and empathy." ­-
BookPage, starred review
"This poignant look at grief and loss is a perfect opening for conversations about death, depression, and therapy for middle-grade readers….a great pick for tween book groups, sure to leave readers' eyes wet with tears by the end." -
Booklist
"
Lolo's Light
 is a tender, gentle exploration of grief and a testament to the light-family, friendship, community-that helps us through it."-Elana K. Arnold, author of 
A Boy Called Bat
, Michael L. Printz honoree and National Book Award finalist
"Expertly woven with tenderness and grace, this is a book for anyone who needs reminding there is always light to be found in the darkness." -Christina Soontornvat, Newbery Honor-winning author of 
A Wish in the Dark
?- "Garton treats the topic of grief with wisdom and tenderness in this slice-of-life novel set on the North Shore of Chicago….Divided into tonally discrete "before" and "everything after" sections that convey the tween's transformation, the narrative economically and movingly renders Millie's inner turmoil-and work with a therapist-in the wake of a sorrowful event."  
­- Publisher's Weekly, starred review
"What a wonderful, truly awesome and amazing story this is. Millie, Sam, Ms. Fritz, Lolo, the Acostas-theirs is a story filled with grace, longing, and, above all, love. My heart will never be the same again."-Kathi Appelt, author of 
The Underneath
, National Book Award finalist and Newbery honoree
" -[E]xtraordinarily well written, taking readers on the heartbreaking, difficult, and necessary journey that follows unthinkable loss. . . . A poignant coming-of-age story that explores the ripple effects of death, loss, and forgiveness." ­-
Kirkus Reviews, starred review