Why We Get the Wrong Politicians (Paperback)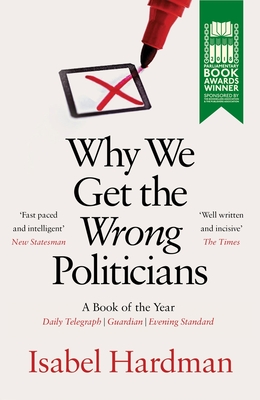 Description
---
Shortlisted for the 2018 Waterstones Book of the Year
Winner at the 2018 Parliamentary Book Awards
Longlisted for the Orwell Prize, 2019
____________

"A really good book... Well-structured and well-written." Observer
"Well written and incisive." The Times
"Vital and compelling." New Statesman

In an era when politicians are responsible for the Brexit logjam and embroiled in sexual-harassment and expenses scandals, it's no wonder we've lost our faith in government. Every year, they introduce new legislation that doesn't do what it sets out to achieve - often with terrible financial and human costs. But, with some notable exceptions, they are decent, hard-working people, doing a hugely difficult and demanding job. In this searching examination of our political class, award-winning journalist Isabel Hardman investigates the strange and demanding world of Westminster, and asks why we end up with representatives we no longer trust - and how might faith be restored.
About the Author
---
Isabel Hardman is a journalist and broadcaster. She is Assistant Editor of The Spectator and presents Week in Westminster on BBC Radio 4. In 2015, she was named "Journalist of the Year" at the Political Studies Association's annual awards.