Marvel Anatomy: A Scientific Study of the Superhuman (Hardcover)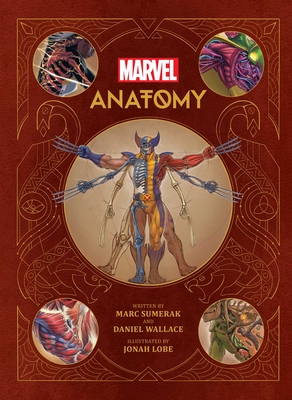 $85.00

We can order this book for you! This will delay shipping your book by 2 - 7 days.
Description
---
Discover the secrets behind the powers of Marvel's greatest characters through stunning anatomical cutaway illustrations and in-depth commentary from the Black Panther and Shuri.

When Skrull forces use their shape-shifting powers to infiltrate Earth's defenses, King T'Challa must delve into Wakanda's scientific archives to determine which Super Heroes and Super Villains might be most at risk. With assistance from his brilliant sister, Shuri, the Black Panther explores the unique anatomical makeup of a vast range of super-powered individuals, unlocking the secrets behind their abilities

Featuring exclusive anatomical cutaway illustrations created by concept artist Jonah Lobe (Skyrim, Fallout) and writing by Marc Sumerak (MARVEL Future Revolution) and Daniel Wallace (The Jedi Path), this deluxe book is a visually stunning journey into the powers of the Marvel Universe's greatest characters.

VISUALLY STUNNING: Featuring unique and exquisitely-detailed anatomical cutaway illustrations by renowned concept artist Jonah Lobe (Skyrim, Fallout).

100+ UNIQUE ILLUSTRATIONS: Beautifully illustrated cross sections combined with fascinating insights capture each Super Hero's and Super Villain's unique set of powers.

EXPERIENCE THE MARVEL UNIVERSE LIKE NEVER BEFORE: Written from the point of view of a beloved Marvel character, Marvel Anatomy: A Scientific Study of the Superhuman explores the secrets of super-powered heroes, as well as mutants, extra-terrestrial lifeforms, and technically enhanced individuals.

60+ CHARACTERS: Marvel Anatomy: A Scientific Study of the Superhuman reveals the anatomy of more than sixty fan-favorite Marvel characters, including Spider-Man, the Hulk, Thanos, Mystique, the Thing, Squirrel Girl, Venom, and Groot.

A SPECTACULAR ADDITION TO YOUR COMICS LIBRARY: This book joins Insight Editions' exciting line of Marvel Comics titles, including Marvel: Avengers Campus: The Official Cookbook and Magic of Marvel Oracle Deck.
About the Author
---
Marc Sumerak is an Eisner and Harvey Award-nominated writer whose work has been featured in comics, books, and video games showcasing some of pop culture's most beloved franchises, including Marvel, Star Wars, Harry Potter, Firefly, Ghostbusters, Back to the Future, and many more. Most recently, he has been writing the story for the award-winning mobile game, MARVEL Future Revolution.

Jonah Lobe is an award-winning concept artist, 3D character artist, and illustrator, best known for his work on games including Skyrim and Fallout. Jonah is passionate about art, creativity, and monsters –– connect with him on Twitch, Twitter, Instagram, and YouTube. Jonah lives with his wife and daughter in Brooklyn, New York.

Daniel Wallace is the author or coauthor of more than fifty books, including The Jedi Path, Ghostbusters: The Ultimate Visual History, The World According to Spider-Man, Warcraft: Behind the Dark Portal, Star Wars: The Lightsaber Collection, and The New York Times best-selling book Star Wars: The New Essential Guide to Characters. His specialty is exploring the underpinnings of popular fictional universes.