The Ripper's Shadow: A Victorian Mystery (Hardcover)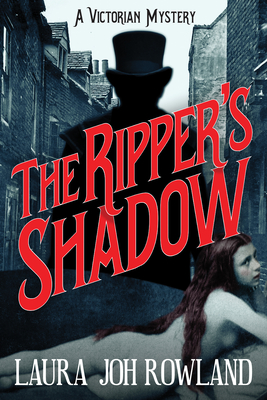 Other Books in Series
This is book number 1 in the A Victorian Mystery series.
Description
---
With all of London paralyzed by fear, a motley crew of amateur sleuths launches their own investigation into the mystery of the century—uncovering the identity of Jack the Ripper
 
The year is 1888 and Jack the Ripper begins his reign of terror.

Miss Sarah Bain, a photographer in Whitechapel, is an independent woman with dark secrets. In the privacy of her studio, she supplements her meager income by taking illicit "boudoir photographs" of the town's local ladies of the night. But when two of her models are found gruesomely murdered within weeks of one another, Sarah begins to suspect it's more than mere coincidence.

Teamed with a motley crew of friends—including a street urchin, a gay aristocrat, a Jewish butcher and his wife, and a beautiful young actress—Sarah delves into the crime of the century. But just as she starts unlocking the Ripper's secrets, she catches the attention of the local police, who believe she knows more than she's revealing, as well as from the Ripper himself, now bent on silencing her and her friends for good.

Caught in the crosshairs of a ruthless killer, Sarah races through Whitechapel's darkest alleys to find the truth...until she makes a shocking discovery that challenges everything she thought she knew about the case. Intelligent, original, and utterly engrossing, Laura Joh Rowland's Victorian mystery The Ripper's Shadow will keep readers up through the late hours of the night.
About the Author
---
Laura Joh Rowland is the bestselling author of the samurai detective Sano Ichiro mystery series set in 17th c. Japan as well as the historical suspense series starring Charlotte Bronte. Her work has been published in 21 countries, nominated for the Anthony Award, the Hammett Prize, and the Barnes & Noble Discover Great New Writers Award, won RT Magazine's Reader's Choice Award, and been included in the Wall Street Journal's list of the five best historical mystery novels. Laura holds a Bachelor of Science and a Master of Public Health degree from the University of Michigan. She is a former aerospace scientist, a painter, and a cartoonist. She lives in New York City with her husband Marty.
Praise For…
---
Praise for The Ripper's Shadow:
"There are so many fine things about this novel that it's difficult to enumerate them all. The characters are beautifully drawn; the dialogue sparkles; the setting is vividly rendered...This is sure to delight followers of Ripper-themed fiction and all who cherish Victorian-era mysteries."
—Booklist starred review

"Close calls, a surprise ending, and the suggestion of further adventures...Rowland has assembled an appealingly ragtag collection of amateur sleuths and keeps the suspense high."
—Kirkus Reviews

"Attention to atmospheric detail, original characterizations, and escalating conflict...This is a fresh, modern take on the streets that produced a murderer 'From Hell.'"
—Strand Magazine

"Laura Joh Rowland reinvents the story of Jack the Ripper in a wholly unexpected way. Gritty, imaginative, and full of nail-biting suspense, The Ripper's Shadow is a triumph."
—Tasha Alexander, NYT bestselling author of A Terrible Beauty

"Please let this be the start of a series. I went into The Ripper's Shadow wondering if I could care about another Jack the Ripper novel, and emerged at the end of it thrilled, off-balance, and astonished at how Laura Joh Rowland was able to bring Victorian England into such vivid life, and a story we all know into new relief. This is a fantastic read."
—Charles Finch, bestselling author of The Inheritance

"Laura Joh Rowland has penned an imaginative, chilling reinterpretation of Jack the Ripper's bloody reign of terror. A dark, seductive peek into the dangerous underbelly of Victorian London."
—C.S. Harris, bestselling author of the Sebastian St. Cyr mysteries

"Tense, pacy and compelling; Laura Joh Rowland commands empathy for the Ripper's victims and sincere affections for her characters."
—Stephen Gallagher, critically acclaimed author of The Kingdom of Bones and The Bedlam Detective

Praise for Laura Joh Rowland:
"Rowland offers the usual high-stakes suspense, convincing period detail, and nuanced characters you care about."
—Publishers Weekly on The Iris Fan

"In addition to intricate plotting, Rowland's consistent strength throughout her series has been the authority she brings to her portraits of her idiosyncratic characters and their world. Her descriptions...never seem like mere wallpaper, but rather are elements crucial to the crimes that bedevil her characters."
—Maureen Corrigan, The Washington Post on The Iris Fan

"Fascinating...there are few things as delicious as a good old-fashioned power struggle—especially the costume-drama variety, involving sword battles and perfectly timed barbs exchanged by witty women pretending that they're just drinking tea."
—Oprah.com on The Incense Game

"Stellar...Once again, Rowland sets the bar high for her hero, who must navigate treacherous political shoals as well as deduce the killer's identity."
—Publishers Weekly starred review on The Incense Game

"Excellent...With mystery, excitement and a bang-up ending, this is one you won't be able to put down!"
—RT Book Reviews Top Pick on The Incense Game