Plaid and Plagiarism: The Highland Bookshop Mystery Series: Book 1 (Paperback)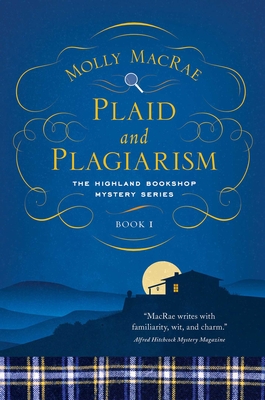 Description
---
A murder in a garden turns the four new owners of Yon Bonnie Books into amateur detectives, in a captivating new cozy mystery novel from Molly MacRae.

Set in the weeks before the annual Inversgail Literature Festival in Scotland, Plaid and Plagiarism begins on a morning shortly after the four women take possession of their bookshop in the Highlands. Unfortunately, the move to Inversgail hasn't gone as smoothly as they'd planned.

First, Janet Marsh is told she'll have to wait before moving into her new home. Then she finds out the house has been vandalized. Again. The chief suspect? Una Graham, an advice columnist for the local paper—who's trying to make a name for herself as an investigative reporter. When Janet and her business partners go looking for clues at the house, they find a body—it's Una, in the garden shed, with a sickle in her neck. Janet never did like that garden shed.

Who wanted Una dead? After discovering a cache of nasty letters, Janet and her friends are beginning to wonder who didn't, including Janet's ex-husband. Surrounded by a cast of characters with whom readers will fall in love, the new owners of Yon Bonnie Books set out to solve Una's murder so they can get back to business.

A delightful and deadly new novel about recognizing one's strengths and weakness—while also trying to open a new book shop—Plaid and Plagiarism is the start of an entertaining new Scottish mystery series.
About the Author
---
Molly MacRae is the national bestselling author of Plaid and Plagiarism, Scones and Scoundrels, Thistles and Thieves, and Heather and Homicide, all available from Pegasus Crime. Her short stories have appeared in Alfred Hitchcock Mystery Magazine for more than twenty years, and she has won the Sherwood Anderson Award for Short Fiction. Molly lives with her family in Champaign, Illinois.
Praise For…
---
A mystery about murder and mayhem in the Highlands. A new cozy mystery series in which the drama is tempered with humor.

— Marilyn Stasio

Cozy aficionados will be charmed by Molly MacRae's Plaid and Plagiarism.


This series kickoff from MacRae (Wilder Rumors, 2007, etc.) is chock-full of intriguing characters and Highland charm.


This charming mystery set in the Scottish Highlands combines murder, poison-pen letters and the challenges of running a bookshop.

Four women open a bookstore in Inversgail, Scotland, in this charming series debut from MacRae. It will be fun to see what these independent, resourceful, and likable women do next.

Full of fascinating local characters and Highland color, this series debut will charm everyone who loves Scotland. Recommend for enthusiasts of Ann Ripley or Dicey Deere.

This cozy mystery has a fun premise. For an evening read on a cold night with a cup of tea, this will do nicely.

MacRae has set the baseline for what promises to be a dynamic line of stories with a rich cast of characters and a charming setting. Avoids the cuteness and twee level of many cozies, presents strong female characters doing strong and believable things, and creates worlds in both a small Scottish town and its snug bookstore that seem to be places worth visiting. Nicely done.