A Toni Morrison Treasury: The Big Box; The Ant or the Grasshopper?; The Lion or the Mouse?; Poppy or the Snake?; Peeny Butter Fudge; The Tortoise or the Hare; Little Cloud and Lady Wind; Please, Louise (Hardcover)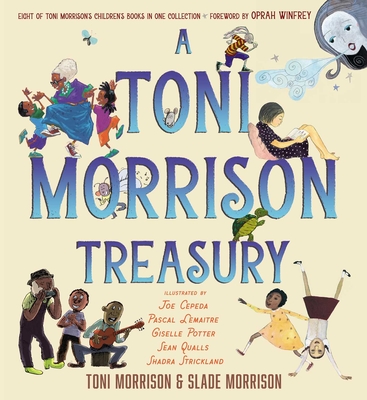 Description
---
Presidential Medal of Freedom, Nobel Prize, and Pulitzer Prize recipient Toni Morrison's eight children's books, cowritten with her son, are collected in one hardcover volume for the first time in this beautiful keepsake treasury with a foreword by Oprah Winfrey!

The three Who's Got Game books slyly and exuberantly retell some of Aesop's fables. Three of the stories feature illustrations by Pascal Lemaitre: The Ant or the Grasshopper? examines friendship, betrayal, and survival while The Lion or the Mouse? takes a hilarious, subversive look at bullying and ego, big and small, and The Poppy or the Snake? shows how an accidental injury spirals into a battle of wills.

In The Tortoise or the Hare?, illustrated by Joe Cepeda, slow and steady wins the race…or does it?

Peeny Butter Fudge, also illustrated by Joe Cepeda, celebrates the relationship between three kids and their Nana. Nana can take an ordinary afternoon and make it extra special! Nap time, story time, and playtime are transformed by fairies, dragons, dancing, and pretending—and then mixing and fixing yummy, yummy fudge just like Nana and Mommy did not so many years ago. A lot can happen when Nana is left in charge!

Little Cloud and Lady Wind features artwork by Sean Qualls and follows Little Cloud, who likes her own place in the sky. Away from the other clouds, the sky is all hers. Can Lady Wind show Little Cloud the power of being with others?

Shadra Strickland's charming illustrations illuminate Please, Louise. One gray afternoon, Louise makes a trip to the library. With the help of a new library card and through the transformative power of books, what started out as a dull day turns into one of surprises, ideas, and curiosity! This engaging picture book celebrates the wonders of reading, the enchanting capacity of the imagination, and, of course, the splendor of libraries.

Toni Morrison's first book for children, The Big Box, illustrated by Giselle Potter, introduces three feisty children who show grown-ups what it really means to be a kid.
About the Author
---
Toni Morrison (1931–2019) was a Nobel Prize–winning American author, editor, and professor. Her contributions to the modern canon are numerous. Some of her acclaimed titles include: The Bluest Eye, Song of Solomon, and Beloved, which won the Pulitzer Prize for Fiction in 1988. She won the 1993 Nobel Prize for Literature.

Slade Morrison was born in Ohio and educated in New York City. He studied art at SUNY Purchase and collaborated with his mother, Toni Morrison, on their books for children.

Joe Cepeda is the illustrator of many award-winning picture books, including Peeny Butter Fudge and The Tortoise or the Hare by Toni Morrison and Slade Morrison, What a Truly Cool World by Julius Lester, Mice and Beans by Pam Muñoz Ryan, and Gracias the Thanksgiving Turkey by Joy Cowley. Mr. Cepeda received his BFA in illustration from California State University, Long Beach. His illustrations have appeared in publications such as the Los Angeles Times; Buzz, Inc.; and Latina.

Pascal Lemaitre illustrated Toni and Slade Morrison's bestselling Who's Got Game? series, as well as many other books for children. He and his family divide their time between Brussels, Belgium, where he teaches illustration, and Brooklyn, New York. Visit him online at PascalLemaitre.com.

Giselle Potter has illustrated many books, including Try It! by Mara Rockliff, All by Himself? by Elana K. Arnold, and Kate and the Beanstalk by Mary Pope Osborne, as well as her own Tell Me What to Dream About, This Is My Dollhouse, and The Year I Didn't Go to School, about traveling through Italy with her parents' puppet troupe when she was eight. She lives in Rosendale, New York, with her husband and two daughters. Visit her at GisellePotter.com.

Sean Qualls's work is a mixed media combination of painting, drawing, and collage. He has illustrated many picture books, including Before John Was a Jazz Giant, which received a Coretta Scott King Honor Award; The Poet Slave of Cuba, a BCCB Blue Ribbon Book; Dizzy, an ALA Notable Book and a Kirkus Reviews, School Library Journal, and Child Magazine best book, as well as BCCB Blue Ribbon Book and a Booklist Editor's Choice; and Emmanuel's Dream, which was a Schneider Award winner and an Amazon Best Book of the Month. He lives in Brooklyn, New York.

Shadra Strickland studied, design, writing, and illustration at Syracuse University and later went on to complete her MFA at the School of Visual Arts in New York City. She won the Ezra Jack Keats Award and the Coretta Scott King - John Steptoe Award for New Talent in 2009 for her work in her first picture book, Bird, written by Zetta Elliott. Strickland coillustrated Our Children Can Soar, winner of a 2010 NAACP Image Award. She teaches illustration at Maryland Institute College of Art in Baltimore, Maryland. Visit her online at ShadraStrickland.com.