It's Getting Dark: Stories (Hardcover)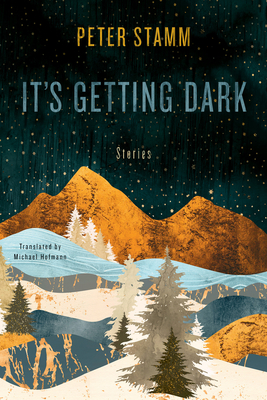 Description
---
The Millions: Most Anticipated Book of the Month

A new story collection from "one of Europe's most exciting writers" (New York Times Book Review) deftly evokes and explores the shifts that occur when the world grows dark.

Snowed in at a remote artists' residency in Vermont, Peter recalls another Christmas some thirty years earlier, when he met Marcia by chance on a trip to New York City. Only now, in this eerie, isolated place, does he begin to see the consequences of their brief affair through a series of connections.
When Hubert asks Sabrina to model for a sculpture, she's flattered and happy to help. But facing the finished product, looking at herself from previously hidden angles, disturbs her, and she becomes determined to follow her double after it's sold to a collector.
Uneasy in his own skin and with the humdrum life set out for him, David decides to rob a bank. He already has a mask for the purpose, but won't be using it today. He's heard that bank robbers often study the scene for weeks before they strike. So he's started to lurk.
We think we know our world, but then the familiar suddenly turns strange, and even frightening. In these powerfully affecting, minutely constructed stories, Peter Stamm illustrates how fragile our reality really is, how susceptible to tricks of the heart and mind.
About the Author
---
Peter Stamm is the author of the novels The Sweet Indifference of the World, To the Back of Beyond, All Days Are Night, Seven Years, On a Day Like This, Unformed Landscape, and Agnes, and the short-story collections We're Flying and In Strange Gardens and Other Stories. His award-winning books have been translated into more than thirty languages. For his entire body of work and his accomplishments in fiction, he was short-listed for the Man Booker International Prize in 2013, and in 2014 he won the prestigious Friedrich Hölderlin Prize. He lives in Switzerland.

Michael Hofmann has translated the work of Gottfried Benn, Hans Fallada, Franz Kafka, Joseph Roth, and many others. In 2012 he was awarded the Thornton Wilder Prize for Translation by the American Academy of Arts and Letters. His One Lark, One Horse: Poems was published in 2019, Where Have You Been? Selected Essays in 2014, and Selected Poems in 2009. He lives in Florida and London.
Praise For…
---
"[Stamm's] story collection shows the instability of a world we think we know." —New York Times
 
"Stamm, whose precise, dry prose builds suspense in its very insistence on the quotidian, creates narratives simultaneously ordinary and strange, even uncanny. Atmospherically, these stories recall Arthur Schnitzler, or even Edgar Allan Poe…haunting…beautifully translated, as are all his books, by the remarkable Michael Hofmann." —Harper's
 
"[Stamm's] powerfully unsettling short-story collection catalogs moments when the familiar shifts into the unknown, when we realize how flimsy our constructed realties really are." —Literary Hub, Most Anticipated Books of the Year

"From an author one critic called 'one of Europe's most exciting writers' come a dozen reflective and somber stories about the tenuousness of reality." —Los Angeles Times

"[These stories] all have a latent uneasiness to them, making the reader turn the pages both quickly and apprehensively…Stamm effectively sustains a dark mood." —Publishers Weekly

"Stamm sketches out painfully realistic stories that slowly but surely reveal their strange, uneasy underbellies." —The Millions, Most Anticipated Books

"Peter Stamm doesn't so much yank the rug out from under the reader as ease it slowly, mesmerizingly away, until we stagger and realize that the world has shifted beneath us. These tales are eerie, menacing delights." —Caitlin Horrocks, author of Life Among the Terranauts

"A casual, effortless voice belies the intense structural formality in these stories, which take place on the blurred edge between reality, memory, and dream. Language is wielded subtly, sharply, in masterful hands. It's Getting Dark burns like ice." —Shruti Swamy, author of The Archer and A House Is a Body

Praise for Peter Stamm:

"Stamm's prose (beautifully translated by Michael Hofmann) is plain but not so simple...A subtle but deadly style." —Zadie Smith

"Peter Stamm is an extraordinary author who can make the ordinary absolutely electrifying...Hard to recommend too highly." —Tim Parks

"A master writer...His prose...is as sharply illuminating as a surgical light." —The Economist