Powerful Practices for High-Performing Special Educators (Paperback)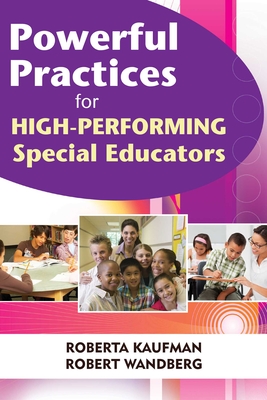 Description
---
Special education teachers face unique challenges, especially when they are just beginning. This essential resource offers special educators a blueprint for dealing with the most common challenges they face both in the classroom and in the larger school environment.

These research-based strategies help teachers meet the academic needs of diverse students with disabilities (including those who are also English language learners) in areas such as setting up a classroom, managing student behavior, designing effective instruction, incorporating technology, embracing diversity, and more. Each chapter features:

-An overview and objectives
-A brief research review
-Step-by-step strategies that can be used immediately
-Examples and scenarios from real teaching experiences
-Self-assessments and reflections

This all-in-one reference book offers the tools, strategies, and support special educators need for success in their first year and every year thereafter!
About the Author
---
Robert Kaufman: Roberta Kaufman has been a P-12 special educator and university administrator in the Midwest where she has worked in both rural and urban settings. Dr. Kaufman initiated a program providing instructional seminars followed by coaching support for individuals hired as special educators in a diverse urban school district. She is currently on the faculty of the School of Education at the University of South Dakota, and lives in Vermillion, SD.

Robert Wandberg: Robert Wandberg currently serves as the Language Diverse Literacy Coach for the Columbia Heights School District in Minnesota. His responsibilities include providing classroom teachers with effective, best practice strategies for working with English language learners, special education students, and low-literacy learners. He is a former middle and high school classroom teacher and state curriculum specialist with the Minnesota Department of Education. In addition to his numerous state, national, and international presentations, Dr. Wandberg has authored 12 middle/high school level textbooks for low-literacy students. He has also co-authored two university-level textbooks focusing on effective classroom practice and several professional journal articles, many of which focus on diverse students in the general education classroom. He also teaches graduate education courses at Minnesota State University, Mankato.