Patsy: A Novel (Paperback)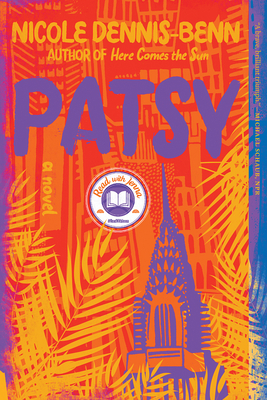 Description
---
Best Books of 2019: Washington Post • O, The Oprah Magazine • Time • NPR • People • Buzzfeed

A TODAY Show #ReadWithJenna Book Club Selection

Winner • Lambda Literary Award [Lesbian Fiction]

A Washington Post Lily Lit Club Selection

Longlisted • PEN/Faulkner Award for Fiction

American Library Association • A Barbara Gittings Literature Award Honor Book (Stonewall Book Awards)

Finalist • Aspen Words Literary Prize

Finalist • Brooklyn Public Library Literary Prize

Apple Books • Best Books of the Month

New York Times Book Review • Editors' Choice Selection

Kirkus Reviews • Most Memorable Fictional Families of the Year

Longlisted • The Morning News Tournament of Books

A Rumpus Book Club Selection
A beautifully layered portrait of motherhood, immigration, and the sacrifices we make in the name of love from award-winning novelist Nicole Dennis-Benn.
Heralded for writing "deeply memorable . . . women" (Jennifer Senior,
New York Times)
, Nicole Dennis-Benn introduces readers to an unforgettable heroine for our times: the eponymous Patsy, who leaves her young daughter behind in Jamaica to follow Cicely, her oldest friend, to New York. Beating with the pulse of a long-withheld confession and peppered with lilting patois,
Patsy
gives voice to a woman who looks to America for the opportunity to love whomever she chooses, bravely putting
herself
first. But to survive as an undocumented immigrant, Patsy is forced to work as a nanny, while back in Jamaica her daughter, Tru, ironically struggles to understand why she was left behind. Greeted with international critical acclaim from readers who, at last, saw themselves represented in
Patsy
, this astonishing novel "fills a literary void with compassion, complexity and tenderness" (Joshunda Sanders,
Time
), offering up a vital portrait of the chasms between selfhood and motherhood, the American dream and reality.
About the Author
---
Nicole Dennis-Benn is the author of Here Comes the Sun, a New York Times Notable Book and winner of the Lambda Literary Award. Born and raised in Kingston, Jamaica, she teaches at Princeton and lives with her wife in Brooklyn, New York.
Praise For…
---
It's a story about resilience.... Patsy is a book that will open a lot of minds. I think particularly now, it's critical that we open our minds to the way others live.... At the end this is a beautiful story of love.

— Jenna Bush Hager, NBC's TODAY #ReadWithJenna Book Club Selection

Sumptuous... Dennis-Benn ingeniously humanizes and changes up the typical immigrant saga... The result is a knowing, at times painfully funny novel about the disorienting relationship between selfhood and sacrifice.
— O, The Oprah Magazine

Stunning…. Patsy fills a literary void with compassion, complexity and tenderness.

— Joshunda Sanders - TIME

Nicole Dennis-Benn carefully unspools the stories behind each wound over the long course of this richly imagined novel... [she] beautifully illustrates how the characters are connected to one another by love, desire and violence, and how they bear those histories permanently, both within and on their bodies. [Patsy] continually and subtly defies predictability as it tells a vital and remarkable life story.... I never knew what turn the story would take next, how the past would reassert itself, what alliances and rifts would form, where love would fail and where it would unexpectedly appear. Again and again, Patsy surprises and illuminates.

— Chelsey Johnson - New York Times

Admirers of Here Comes the Sun have waited three years for Dennis-Benn's followup, and anyone who was enchanted by her gorgeous writing are in for a happy surprise: Patsy isn't just as good as its predecessor, it's somehow even better.... Dennis-Benn isn't just a compassionate writer, she's also a courageous one, unafraid to address topics that too often go ignored. And in Patsy and Tru, she's managed to create two unforgettable characters who function as real people and not literary archetypes. Dennis-Benn is quickly becoming an indispensable novelist, and Patsy is a brave, brilliant triumph of a book.

— Michael Schaub - NPR

Nicole Dennis-Benn's sophomore novel, Patsy, methodically and unapologetically engages with choices women do and should be allowed to make, and as with her last novel, Here Comes the Sun, does so with nuance and grace.... Patsy is a deeply queer, sensitive and vividly written novel about a woman's right to want and a child's right to carve her own path.

— Ilana Masad - Washington Post

Dennis-Benn writes about the immigrant experience with abiding, bone-deep empathy—swinging between standard English and patois the same way that Patsy and her daughter navigate their own need to code-switch as the years pass. Estranged from one another and bound to a world that tends to treat black womanhood and queer sexuality as invisible at best, their separate but intertwined stories wend through hurt and hope and inalienable dreams; not just for a better life, but a truly honest one.
— Leah Greenblatt - Entertainment Weekly

Brilliant… [Dennis-Benn] writes with keen awareness of what others experience living undocumented in America—and the compromises that women make in order to prioritize themselves.
— Elle

Dennis-Benn gives her characters the dose of happiness and self-assurance that many stories about social ills refuse women like them. She does that without facilely wishing away the big issues—racism, homophobia, gender, classism—that her novel tackles. Patsy is a portrait of black queer women grasping for self-determination, and a challenge to the conventions of what is expected of good mothers and good women and good immigrants.... In writing beautifully about that unending struggle, Dennis-Benn finds a way to extend to black girls and women some of the love that the world may never offer.

— Adrienne Green - The Atlantic

While Patsy highlights the profound, and often unseen, sacrifices made in immigrants' lives in America, it also emphasizes the struggles of those who are LGBTQIA+.... In the end, Dennis-Benn touches upon the question of whether or not America is even still the promised land for all identities seeking freedom from persecution.

— C.E. Miller - Bustle

Patsy is a probing novel about freedom, examining one woman's shifting conception of it, and how people weigh what they are willing to trade for liberty.... The immigrant novel has a rich tradition in American literature.... Patsy adds to that lineage with its engrossing portrait of a complicated woman who struggles against crushing societal forces in her quest—not to sacrifice her life for future generations—but to finally unfurl her true self.

— Jenny Shank - Minneapolis Star-Tribune

Astonishing.... Dennis-Benn's writing is ravishing, full of the musical rhythm of Jamaican dialect, sprinkled like hot spices throughout a narrative that is colorful, heartbreakingly sad and bristling with life.
— Caroline Leavitt - San Francisco Chronicle

[A] provocative, muscular book. Dennis-Benn takes care with characters, building intricate relationships, and writes in exquisite prose that brings to life Pennyfield, the Jamaican neighborhood Patsy is from, and the Caribbean diaspora in New York.... Draws the complexity of experiencing one's sexuality, and the varying ways sexuality is understood in the larger community.
— Alexia Arthurs - Ms. Magazine

Although she's lovingly drawn by Dennis-Benn, Patsy has done the single most-damning thing a mother can do in our society: She has abandoned her child. It's a marker of Dennis-Benn's masterful prowess at characterization and her elegant, nuanced writing that the people here—even when they're flawed or unlikable—inspire sympathy and respect. Dennis-Benn has written a profound book about sexuality, gender, race, and immigration that speaks to the contemporary moment through the figure of a woman alive with passion and regret.

— Kirkus Reviews (starred review)

Redemptive parallel stories examine themes of identity, belonging, and self-fulfillment in Dennis-Benn's (Here Comes the Sun) latest... Sharon Gordon beautifully captures the lilt of the many Jamaican voices as well as conveying the ambiguity of Patsy and Tru's thoughts and feelings. This story may be better listened to than read. Highly recommended.

— Judy Murray, Library Journal (Audiobook, Starred)

A Jamaican woman abandons her daughter for a chance to reunite with her childhood friend turned lover in this wrenching second novel from Dennis-Benn (Here Comes the Sun).... An immersive study in unintended consequences…. This is a marvelous novel.

— Publishers Weekly

Dennis-Benn (Here Comes the Sun, 2016) builds big worlds inside and outside her touchable characters, writing through their knotty love in all its failures and mercies in this empathetic intergenerational epic of womanhood and inheritance.

— Annie Bostrom, Booklist (starred review)

A stunningly powerful inter-generational novel about the price—the ransom really— women must pay to choose themselves, their lives, their value, their humanity. Frank, funny, salty, heartbreaking, full of love, Dennis-Benn is a map-maker to those places in the heart held so closely, the holder may not know even they're there.
— Alexander Chee, author of How to Write an Autobiographical Novel

Beautiful, shattering, and deeply affecting. Patsy's story ultimately makes for a novel that is destined to endure.
— Chigozie Obioma, author of The Fishermen

Nicole Dennis-Benn is an exquisite writer who paints scenes with words so vivid you might as well be walking through it as a character, not a reader. In Patsy, she addresses motherhood, sexuality, racism, and colorism; turning her prodigious talents to the timely story of an undocumented immigrant straddling two worlds while learning that love isn't a choice, but the beat in one's blood.

— Jodi Picoult, New York Times bestselling author of A Spark of Light and Small Great Things

One of my favourite novels of 2017 was easily Nicole Dennis-Benn's first novel, Here Comes the Sun, and when her second, Patsy, was announced, I almost lost my mind. The richness of Dennis-Benn's writing is taken to another level in Patsy, the story of a Jamaican woman working towards her own version of the American dream.... Dennis-Benn explores in such a textured, taut way what in love is gained, and what, or who, is left behind.... Bliss.

— Candice Carty-Williams, author of Queenie: A Novel

A novel that splits at the seams with yearning, elegantly written and deeply felt. Dennis-Benn leads the reader through Patsy's life with empathy and grace.
— Esme Weijun Wang, author of The Collected Schizophrenias

An aching meditation on motherhood, sacrifice, and what it means to look truth in the face in order to fully become oneself. A beautiful book, as heartbreaking as it is restorative.
— Cristina Henriquez, author of The Book of Unknown Americans