What Follows (Paperback)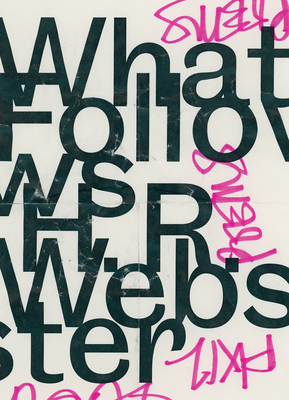 Description
---
"What a lively, funny, lacerating book of poems from this "gutsy little zombie," H.R. Webster, who knows the world through direct, often brutal, experience, and ravishingly, through the senses. Here is a poet who knows "(t)he refrigerator warm with the animal smell / of butter," "the shy hysteria / of doves," "(h)unters storming through the gum trees like house cats / cut from their bells," and "the dick velvet of the apricot under a thumb," and also the reality of factory work, "those efficient little gestures, the left hand ready for what the right hand wrought," that "don't belong in a poem," but here they are. Here it all is, trauma and the genius of survival via the genius of imagination married to the genius of truth-telling. There is so much muchness in What Follows-I must follow it."
--Diane Seuss, author of frank: sonnets
"Whether trafficking in the dark, alluring ambages of personal and cultural sexual powerplay, confronting the brutal indifferences of the body (and of what Roethke called "great nature") to human volition, or boldly protesting all manner of crimes against the humanimal, the arresting poems in H.R. Webster's debut collection dare the reader to turn away from their gorgeously rendered, fearless and feral forays into one writer's intense, perspicacious sensibility. "All else dims before agony," Webster writes, and What Follows is part hagiography, part reliquary of a cosmos of beauty, want, and hurt. These poems will draw you into their experiences of the world and show you "desires you] have failed to imagine."
--Lisa Russ Spaar, author of Madrigalia: New & Selected Poems
"H.R. Webster writes: "It's the end of the world and we can't stop saying the word tender." Every poem in What Follows is both a beautiful and brutally honest account of what follows the end of love. Tender "is the only language left for flesh, for helplessness," she writes. But Webster's stance is far from helpless; this book is a brilliant, inventive, and deeply felt exploration of loss. It's an image-rich catalogue spiked with concise, often painful wisdom that makes me catch my breath. Horses, calves, dried snapdragons, milkvetch, snakes with their "delicate purses of venom," bees pouring from a breast, wolf spiders, a bus "kneeling like a girl," and flowers "petaling themselves monstrous" weave an escape plan in the heartscape of longing, translating precisely what it means to inhabit a female body. Densely sonic, often in sonnet form, these poems are so sharp, smart, and vulnerable that I feel forgiven for every wrong I don't even realize I've done. "Beauty opened a door, what tethered me back?" the poems ask, and this book provides an answer. An incredibly redeeming, courageous debut that through its incantations pulls back the curtain on our shared human suffering and offers hope for us all."
--Sarah Messer, author of Dress Made of Mice