Flora: A Botanical Pop-Up Book (Hardcover)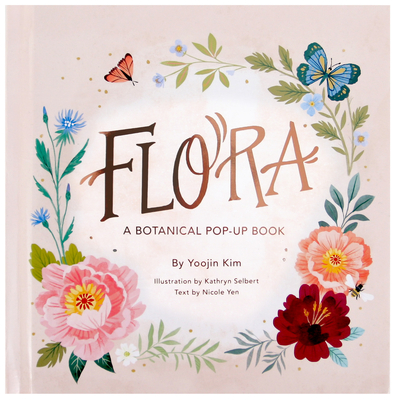 Description
---
Peek inside this spring-inspired pop-up book and discover how flowers are more than just beautiful; they are critical components of the natural world.
Bees buzz, hummingbirds sip, and bats flit amongst the brilliant petals. Each spread is filled with unique pop-ups, revealing pull-tabs, and captivating educational facts.
About the Author
---
Yoojin Kim is a paper engineer, designer, and world traveler. Her wanderlust and fascination with flora and fauna is evident in her work, which is heavily influenced by both the geometric and organic structures found in nature. She holds a BFA in Printmaking from Maryland Institute College of Art and spends her time designing dimensional products for personal and commercial clients. She resides in a cozy New Haven apartment with her curious hedgehogs. Nicole Yen is a designer and wordsmith. She spends most of her time sketching on paper or crafting sentences in the studio-taking breaks to propagate plants and explore local forests. She holds a BFA in Communication Design from Washington University in St. Louis and Flora is her first children's book authorship. Kathryn Selbert is a freelance illustrator and designer currently living in Montclair, NJ with her French bulldog Margot and tea loving boyfriend. She earned her BFA in Illustration from the Rhode Island School of Design. While attending RISD, she completed a children's book design internship at Sterling Publishing. She creates illustrations for children, pattern, greeting cards, stationery and events.