The Masked Marksman #1: Death Takes an Encore (Paperback)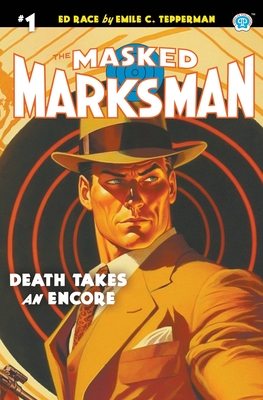 $20.34

We can order this book for you! This will delay shipping your book by 2 - 7 days.
(This book is non-returnable)
Description
---
Meet Ed Race who made his trade as a vaudeville gun-juggler supreme, known on stage as "The Masked Marksman" and for handling six loaded .45s to the delight of the crowds. But when this line of work became too tedious, Race took advantage of his multi-state P.I. licenses to solve crimes across the country. This collection includes his first eight stories:
Amateur Night-for Killers: It looked like Ed Race's last act when he tried to clean up the plague-spot that was Newbold City, and found himself alone on a blood-stained stage-with Death waiting its entrance cue
Cue for a Corpse: Ed Race, vaudeville juggler and high-speed private detective, wasn't accustomed to finding corpses jammed into his wardrobe trunk. But even a dead body, unknown and unidentified, can lead a man into sinister, twisting paths where death lurks, waiting in the shadows...
The Death Juggler: It took more than fast forty-fives to buck a crook of Pete Lucie's stamp... But Ed Race could juggle wits as well as weapons.
Death's Spotlight: Ed Race, actor-detective, always managed to get in the spotlight when there was danger around-but the ease of the man from Amsterdam billed him to play a solo stand in a pine coffin...
Billed for Death : Ed Race, vaudeville headliner and ace detective, leaped at the chance to help out the manager of the Trout City Theater. But that leap in the dark landed Ed fast in a killer's net, where the only out for a desperate criminal crew lay in making a corpse of one gun' juggling detective
Death's Booking Agent: Ed Race awoke in that little mountain town to find that the Great Booking Agent, Death, had billed him to play a star role in the final, fatal drama of life
Death Takes an Encore: Ed Race, gun-juggler supreme, heard the crackling of the electric chair as he listened to the police tell him how he had killed his friend. But Race knew that the life of any act may depend on those last few minutes-before the curtain drops
Murder in the Spotlight: That bright spotlight revealed to breathless audiences the magic skill of Ed Race, gun-juggler extraordinary. But it also made him a target for a gun that wasn't juggled-that was trained on him with Death's own fateful accuracy...