Death of a Bookseller (Hardcover)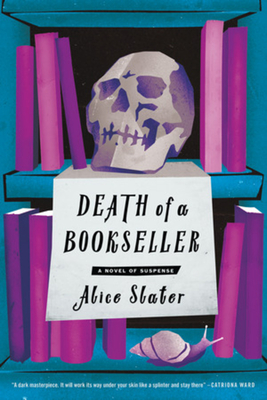 Description
---
A Sunday Times bestseller
In this "utterly unforgettable" debut (Catherine Ryan Howard), a disaffected, true crime-obsessed bookseller develops a dangerous obsession with a colleague.
Roach would rather be listening to the latest episode of her favorite true crime podcast than assisting the boring and predictable customers at her local branch of the bookstore Spines, where she's worked her entire adult life. A serious true crime junkie, Roach looks down her nose at the pumpkin-spice-latte-drinking casual fans who only became interested in the genre once it got trendy. But when Laura, a pretty and charismatic children's bookseller, arrives to help rejuvenate the struggling bookstore branch, Roach recognizes in her an unexpected kindred spirit.
Despite their common interest in true crime, Laura keeps her distance from Roach, resisting the other woman's overtures of friendship. Undeterred, Roach learns everything she can about her new colleague, eventually uncovering Laura's traumatic family history. When Roach realizes that she may have come across her very own true crime story, interest swiftly blooms into a dangerous obsession.
A darkly funny suspense novel, Death of a Bookseller raises ethical questions about the fervor for true crime and how we handle stories that don't belong to us.
About the Author
---
Alice Slater is a writer, editor, podcaster and former bookseller based in London. She co-hosts the What Page Are You On? podcast with Bethany Rutter. Death of a Bookseller is her first novel.
Praise For…
---
A dark masterpiece of grief and obsession. It will work its way under your skin like a splinter and stay there.
— Catriona Ward

Tense, addictive, and sticky underfoot.
— Julia Armfield

Utterly engrossing, atmospheric, and deliciously dark. Hugely compelling.
— Will Dean

Fresh and sharp, expertly plotted and also emotionally charged, comic but also pitch-black dark. . . . Utterly unforgettable.
— Catherine Ryan Howard

Written with dark wit and verve, this mischievous novel is clever, entertaining, and unsettling, with a gasp-inducing climax that beautifully (and wickedly) intertwines the two unforgettable anti-heroines. Each sentence is a dagger, sharpened to perfection; Slater's deliciously morbid debut will haunt you.
— Caitlin Barasch, author of A Novel Obsession

Alice Slater triumphs in Death of a Bookseller, the story of two frenemies who share an antagonistic obsession with true crime. I love a book that features messy women making very bad choices, and this novel delivers the delicious juice in a surprising, twisty narrative that has you guessing until its unpredictable end.

— Chelsea G. Summers, author of A Certain Hunger

Slater delivers a twisty exploration of society's fascination with the macabre.
— Publishers Weekly

Very dark, character-driven, slow-burn suspense … Slater explores the ethics surrounding our obsession with true crime and questions how we should handle other people's stories. This highly original, whip-smart first novel will have crime lovers second-guessing their next read.
— Booklist

Fresh, excellent, quotable, entertaining.
— Caroline Kepnes

Fresh, funny, chilling and disturbing. The story crackles with killer prose and the characters slay you with their read-through-your-fingers desire and desperation. Searingly good.
— Chris Whitaker, award-winning author of We Begin At The End

You can't help but race through the pages. This will have huge commercial appeal.
— Glamour

A spectacularly creepy debut ... Both bookselling and society's true crime are filleted mercilessly in a tense and disturbing read.
— Guardian

The really terrific thing about the book is how the writer conjures that slightly mysterious quality that people working in bookshops always have.
— Daily Mail

We are given two anti-heroines, and it is a brilliant writing choice … Dark, brooding, and about establishing boundaries — or not!
— Manila Bulletin