The Perfect Golden Circle (Hardcover)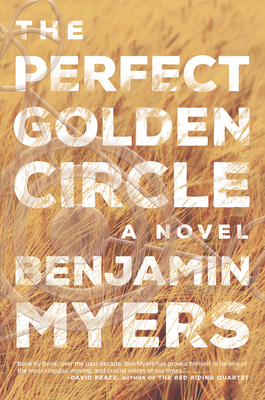 $27.99

We can order this book for you! This will delay shipping your book by 2 - 7 days.
Description
---
Summer 1989, deep in the English countryside — during a time of mass unemployment, class war, and rebellion . . . .
 
Over the course of a burning hot summer, two very different men — Calvert, an ex-soldier traumatized by his experience in the Falklands War, and his affable freind Redbone — set out nightly in a decrepit camper van to undertake an extraordinary project. 
 
Under cover of darkness, they traverse the fields of rural England in secret, forming crop circles in elaborate and mysterious patterns, painstakingly avoiding damaging the wheat to yield designs so intricate that their overnight appearances inspire awe amongst a mystified public.
 
And as the summer wears on, and their designs grow ever more ambitious, the two men find that their work has become a cult international sensation—and that an unlikely and beautiful friendship has taken root as the wheat ripens from green to gold. 
 
But as harvest-time beckons—and as media and the authorities begin to take too much interest in their work—Calvert and Redbone have to race against time to finish the most stunning and original crop circle ever conceived: the Honeycomb Double Helix.
 
Moving and exhilarating, tender and slyly witty, The Perfect Golden Circle is a captivating novel about the futility of war, the descruction of the English countryside, class inequality — ower of beauty to heal trauma and fight power. 
About the Author
---
Benjamin Myers is a British former music journalist whose work appeared in leading publications including NME, Melody Maker, MOJO and Kerrang. He has since gone on to become one of the UK's leading novelists, with several award-winning books including The Gallows Pole, which won the Walter Scott Prize for historical fiction; The Offing, which was a Times (of London) and BBC Radio book of the year; and Pig Iron, which won the Gordon Burn Prize. He has also published poetry and short fiction, and has continued to write journalism for such publications as The Guardian, New Statesman, and New Scientist. He lives in England's Upper Calder Valley in West Yorkshire.
Praise For…
---
A Boston Globe Best Book of 2022!

"The beauty and seeming mystery of the designs gave them (crop circles) a folkloric staying power remarkably at odds with the fragile nature of the form, and these qualities have been nicely conjured in Benjamin Myers's novel 'The Perfect Golden Circle,' a sensitive fictionalization of their making...the novel uncovers a plaintive connection between artistic transcendence and personal loneliness." -- Sam Sacks, The Wall Street Journal

"Terrific, immersive, and wondrous..." -- The Boston Globe

"Benjamin Myers uses the efforts of the real-life Bower and Chorley as the jumping-off point for his latest novel...[it] has much to say about art, but it also has an allegorical feel." -- The Star Tribune

"A quiet, peculiar, and utterly charming novel about...crop circles ... A winsome pleasure: a novel of friendship, collaboration, and environmental guerrilla art." - Kirkus, starred review

"This brilliant, funny, and delightful novel is about misfits finding purpose, and the redemptive power of artistic expression even in the bleakest of circumstances." -- Booklist, starred review

"Even as the book explores a 33-year-old historical moment, its concerns — income inequality, police brutality and climate change, among them — remain remarkably current." -- The Southern California News Group

"Myers keenly observes the men's distant yet intimate friendship...the conversations between the two protagonists are illuminating..." -- Publishers Weekly

"A thrilling introduction to a British literary star and a moving meditation on history, trauma and the urge to create..." -- Shelf Awareness

"The two protagonists in the story are truly driven by their art, and their deep-seated need to bring their increasingly grandiose visions to life." -- Artnet

"An extraordinary, deftly crafted, and inherently fascinating novel ... that will linger in the mind long after the book is finished and set back upon the shelf..." -- The Midwest Book Review

"Myers' excellent, mesmerizing novel exudes a heart-catching blend of gentle melancholy and surreal but spot-on humor... With its integral reminder of the thriving and vital element of life that exists right under our feet, this is one summer-focused book that will linger with you all year long."  -- The Cascadia Daily News

"Nobody does troubled figures in a stunning landscape like Ben Myers. He's a major force in the English novel and he gets better with every book." — Max Porter, author of Grief is the Thing with Feathers

"Book by book, over the past decade, Ben Myers has proved himself to be one of the most singular, moving, and crucial voices of our times." — David Peace, author of the Red Riding Quartet

"The beauty of Myers' language alone is reward enough to read this superb novel, but The Perfect Golden Circle offers so much more: an all-too-rare literary depiction of rural England, the depths of the two central characters, the class and ecological concerns; but most of all the human need for what the Welsh poet Bobi Jones called 'the boundless mystery that comforts being.'  A truly remarkable novel." — Ron Rash, New York Times bestselling author of Serena

"Powerful, visceral writing . . . Benjamin Myers is one to watch." — Pat Barker, author of Regeneration
 
"Myers [writes] fierce, gale-driven prose that speaks to and of the northern English landscape out of which the story rises." — Robert Macfarlane, author The Lost Words

Praise for Benjamin Myers's previous books:

THE OFFING

"This quiet, lyrical novel confirms a powerful new voice." ―The Times

"Every page is studded with descriptive jewels ... Deeply attuned to the natural world ... Poetic ... This book is a sensual pleasure ... It's about the forever things: good food, and art, and friendship, and how those pleasures can redeem us, even during the harshest of times." —New Statesman

"Quietly gripping ... Written with Myers's customary grit and brio ... A welcome advance, one that sees Myers effortlessly extending his range." —The Guardian
 
MALE TEARS

"One of the most interesting, restless writers of his generation." ―Daily Mail

"Benjamin Myers' stories in Male Tears cut right to the heart of the matter. This is fiction to be taken in gulps of pleasure - full of fire and light, wisdom and violence." —Rob Doyle



"Powerful, visceral writing." —Pat Barker  
 
THE GALLOWS POLE

"One of my books of the year ... It's the best thing Myers has done." ― Robert Macfarlane, Big Issue Books of the Year



"A windswept, brutal tale of eighteenth-century Yorkshire told in starkly beautiful prose." ―The Guardian

"A brutal tale told with an original, muscular voice." ―The Times, summer reads picks 2018
 
TURNING BLUE
 
"Ben Myers is the master of English rural noir and with 'Turning Blue' he has created a whole new genre: folk crime. It is by turns gripping, ghastly and unputdownable. I'm already looking forward to the sequel."
 —Paul Kingsnorth, author of The Wake and Beast

"Depraved and decadent ... His prose is beautifully controlled and so graphic it's impossible not to picture the scenes he conjures up in striking detail. There is no hiding from the darkness because the writing is so damned good."
 —Val McDermid, The Guardian
 
PIG IRON

"Pig Iron is an important book because it tells a story that has shaped all contemporary Western humans, but is routinely, inexplicably overlooked - the great move from agricultural life to industrial life. The respect in which that shapes human culture and individual humans." —Deborah Orr

"Benjamin Myers' influences are clear — David Peace's northern brutalism is evident and there are suggestions of Salinger and Golding but Pig Iron's savage vision is his alone." ―Morning Star