Practicing Positive Leadership: Tools and Techniques That Create Extraordinary Results (Paperback)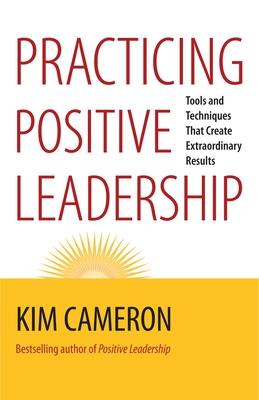 Description
---
A Guide to Going beyond Success

Plenty of research has been done on why companies go terribly wrong, but what makes companies go spectacularly right? That's the question that Kim Cameron asked over a decade ago. Since then, Cameron and his colleagues have uncovered the principles and practices that set extraordinarily effective organizations apart from the merely successful.

In his previous book Positive Leadership, Cameron identified four strategies that enable these organizations, and the individuals within them, to flourish: creating a positive climate, positive relationships, positive communication, and positive meaning. Here he lays out specific tactics for implementing them. These are not feel-good nostrums—study after study (some cited in this book) have proven positive leadership delivers breakthrough bottom-line results. Thanks to Cameron's concise how-to guide, now any organization can be "positively deviant," achieving outcomes that far surpass the norm.
About the Author
---
Kim Cameron is professor of management and organizations at the Stephen M. Ross School of Business, cofounder of the Center for Positive Organizational Scholarship, and professor of higher education in the School of Education, all at the University of Michigan. He is the coauthor or coeditor of fourteen books.
Praise For…
---
"When I learned to apply the techniques of positive leadership my ability to influence others to a common goal increased exponentially. Practicing positive leadership will transform your career and the experience of those you lead!"
—Brent Dunsford, Chief of Staff, Government Business, Humana

"Dr. Cameron's fresh insights and innovative approaches to leadership have given me and my senior managers new ways to inspire and lead our line managers and staff toward producing their best work."
—Julie Zawisza, Director of Office of Communications, Center for Drug Evaluation and Research. U.S. Food and Drug Administration

"Making the decision to focus my energy on positive situations has led to increased staff morale, higher student achievement, and greater productivity… the impact of positive leadership can change lives."
—Scot A. Graden, Superintendent, Saline Area Schools, Saline, Michigan