In Love (Paperback)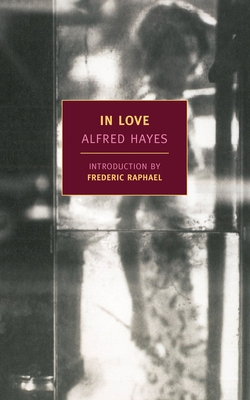 $16.45

Backordered - available date varies.
Description
---
"A little masterpiece." —Elizabeth Bowen

A cynical love letter to an affair gone awry against the backdrop of 1950s New York, "a ruthlessly observant novel with heart-stoppingly good sentences" (Slate)

New York in the 1950s. A man on a barstool is telling a story about a woman he met in a bar, early married and soon divorced, her child farmed out to her parents, good-looking, if a little past her prime. They'd gone out, they'd grown close, but as far as he was concerned it didn't add up to much. He was a busy man.

Then one day, out dancing, she runs into a rich awkward lovelorn businessman. He'll pay for her to be his, pay her a lot. And now the narrator discovers that he is as much in love with her as she is with him, perhaps more, though it will take him a while to realize just how utterly lost he is.

Executed with the cool smoky brilliance of a classic Miles Davis track, In Love is an unequaled exploration of the tethered—and untethered—heart.
About the Author
---
Alfred Hayes (1911–1985) was born into a Jewish family in Whitechapel, London, though his father, a barber, trained violinist, and sometime bookie, moved the family to New York when Hayes was three. After attending City College, Hayes worked as a reporter for the New York American and Daily Mirror and began to publish poetry, including "Joe Hill," about the legendary labor organizer, which was later set to music by the composer Earl Robinson and recorded by Joan Baez. During World War II Hayes was assigned to a special services unit in Italy; after the war he stayed on in Rome, where he contributed to the story development and scripts of several classic Italian neorealist films, including Roberto Rossellini's Paisà (1946) and Vittorio De Sica's Bicycle Thieves (1948), and gathered material for two popular novels, All Thy Conquests (1946) and The Girl on the Via Flaminia (1949), the latter the basis for the 1953 film Act of Love, starring Kirk Douglas. In the late 1940s Hayes went to work in Hollywood, writing screenplays for Clash by Night, A Hatful of Rain, The Left Hand of God, Joy in the Morning, and Fritz Lang's Human Desire, as well as scripts for television. Hayes was the author of seven novels, a collection of stories, and three volumes of poetry. In addition to In Love, NYRB Classics publishes My Face for the World to See.

Frederic Raphael is a screenwriter, playwright, novelist, translator, and critic. His screenwriting credits include Darling (for which he won an Oscar), Far from the Madding Crowd, Two for the Road, and, with the director Stanley Kubrick, Eyes Wide Shut.
Praise For…
---
"The story of a casual love affair that becomes serious as soon it starts to fall apart, In Loveharks back to a classic French tradition—what you might call the Novel of Disillusionment—perfected over a century by Constant, Flaubert, Turgenev, and Proust, among others. At the same time, in its use of one-sided dialogue, its film noir sensibility, and its evocation of New York life, this 1953 masterpiece also seems utterly modern—a culmination and a book utterly at home in its moment." —Lorin Stein, The Paris Review 

"It's a ruthlessly observant novel with heart-stoppingly good sentences…Hayes' description of a failed trip the two lovers took to the Jersey Shore is one of the greatest scenes of romantic alienation ever written. He pinpoints the desperate desire for love and the recognition that it is slipping away with magnificent precision: It is one of the most confusing states two people can encounter, and to see it rendered in words is rare and lovely." —Katie Roiphe, Slate 

"One of the greatest, bleakest breakup stories ever told." — The New York Observer
 
"I've rarely seen the breakdown of a relationship, in all its banality and pettiness, evoked more vividly. It's tough, fresh, very lovely, and will stay with you." —Sadie O. Stein, The Paris Review Daily

"A fever chart of an affair records all the fluctuations of feelings which are intimate and intense, expectant and often disabused, cruel and vulnerable, and brings to the heat of passion a cooler scrutiny which comes with its conclusion. . . . A tour de force." —Kirkus Reviews

"Like Raymond Carver at his best, novelist-cum-screenwriter Alfred Hayes addresses the human condition and its heartbreaks with brevity and brutal honesty. In Love was Hayes's fourth novel, and as the story unfolds, there is a dreadful sense that the middle-aged protagonist is heading for disaster by falling in love with a younger girl who 'inhabits a world from which he is excluded.' When a rival appears, in the shape of a millionaire with an indecent proposal, the cynicism and misery of the situation become almost unbearable." —The Guardian
 
"Maybe the old canard that the best love letters are those written when we are out of love goes for the novel too. If so, Alfred Hayes has written a smashing success. In this, his latest novel, he examines some of the states of mind, body, and soul which accompany love, without falling for all that nonsense about affection, intimacy, trust and all the simple pleasures known to people less sophisticated than the characters in his book." —The New York Times
 
"[A] noirish masterpiece which combines a plot that prefigures Indecent Proposal with the desolate milieu of an Edward Hopper painting. " —The Guardian
 
"In Love is strange, unsettling, cynical and sad. It is a masterpiece. But if you are in love and want to believe, then don't read it." —The Times (London)
 
"This is a marvelously well wrought novel; there are not many current books so completely finished in terms of verbal felicities." —Chicago Tribune
 
"A little masterpiece." —Elizabeth Bowen
 
"Besides being a technical tour de force, In Love is literature; it is a work of art." —Julian Maclaren-Ross, The Sunday Times
 
"Quite the best he has written." —The Times Literary Supplement
 
"Moving and convincing...a lyrical, intelligent book." —The Guardian
 
"Hayes has done for bruised men what Jean Rhys does for bruised women, and they both write heartbreakingly beautiful sentences." —Paul Bailey, The Guardian
 
"A very remarkable novel; altogether outstanding in the unwavering concentration with which it pursues the problem of the reality of love. The story is stripped down to its bare essentials.... Quite unforgettable." —John Lehmann, BBC