Goldy Luck and the Three Pandas (Paperback)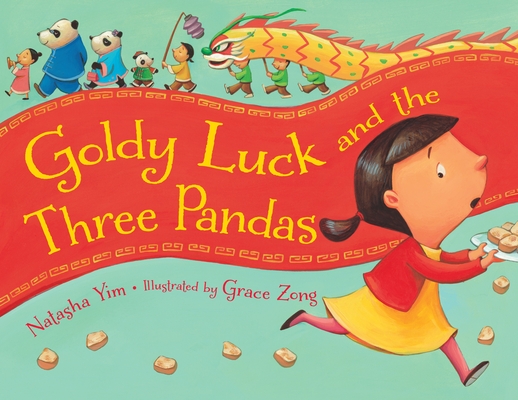 $7.95

We can order this book for you! This will delay shipping your book by 2 - 7 days.
Description
---
A favorite fairy tale set in a bustling contemporary Chinatown.

It's Chinese New Year, and Goldy Luck's mother wants her to take a plate of turnip cakes to the neighbors. The Chans aren't home, but that doesn't stop Goldy from trying out their rice porridge, their chairs, and their beds—with disastrous results.

In this funny and festive retelling of Goldilocks and the Three Bears, Natasha Yim and Grace Zong introduce a plucky heroine who takes responsibility for her actions and makes a new friend (and a whole plate of turnip cakes!), just in time for Chinese New Year.

Includes back matter about Chinese New Year and a recipe for turnip cakes.
About the Author
---
Natasha Yim is the author of Sacajawea of the Shoshone (Goosebottom, 2012), Cixi, "The Dragon Empress" (Goosebottom, 2001), and Otto's Rainy Day. She lives in Ukiah, California, with her family.
Praise For…
---
In this clever picture-book retelling of "Goldilocks and the Three Bears," Chinese New Year starts with Goldy Luck's mother asking her to bring turnip cakes to their panda neighbors, the Chans. Goldy heads next door, promptly spilling her plate of turnip cakes as she walks in the front door; from there, things unfold as might be expected. She eats up Little Chan's rice porridge, breaks his rocking chair, and falls asleep on his futon. Goldy Luck's conscience gets the better of her, though, and she learns some valuable lessons about friendship and being a good neighbor. Zong's acrylic cartoon-style illustrations benefit from well-balanced one- and two-page spreads. Red, a color strongly associated with Chinese New Year and symbolic of good luck, is used as a motif throughout; fittingly, Goldy Luck wears a red sweater and tights. Employing complementary and analogous colors provides balance, and the illustrations are appealing and humorous without being over-the-top. This is a fun retelling of a familiar tale with Chinese-American characters and cultural references, using the celebration of Chinese/Lunar New Year as the backdrop for a story that can be enjoyed year round. An author's note about Chinese New Year and a recipe for turnip cakes are appended.

--School Library Journal April 2014

Set in a contemporary city, Natasha Yim and Grace Zong's Goldy Luck and the Three Pandas (Charlesbridge, 2014) stars a protagonist with shining coal-black locks, a bad habit of breaking things, and—despite her name—a lack of good luck. On Chinese New Year, her mother wakes Goldy up before breakfast and sends her to their neighbors' apartment with a plate of turnip cakes and Kung Hei Fat Choi wishes. After knocking on the door, Goldy gently pushes it open, trips, and spills the goodies all over the floor. As she searches for the broom, she spots three steaming bowls of congee and, tummy rumbling, decides to taste the rice porridge. So it goes, until the Chan family—three pandas, of course—returns to discover a big mess and Goldy sound asleep on Little Chan's futon. Back at home, she thinks about her actions, and, truly embracing the spirit of this start-the-year-fresh holiday, decides to set things right. Themes of friendship and forgiveness resound, as Goldy makes amends and is invited to bake a new batch of turnip cakes (a recipe and information about Chinese New Year customs are appended). The text playfully incorporates festive food-related similes (Goldy feels "like stuffing in a pork bun" in Mrs. Chan's upholstered armchair), and both narrative and acrylic artwork abound with details of Chinese-American culture.

--School Library Journal, March 23, 2015