The Everything Kids' Science Experiments Book: Boil Ice, Float Water, Measure Gravity-Challenge the World Around You! (Everything® Kids) (Paperback)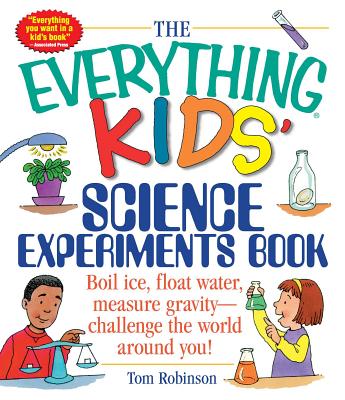 Description
---
Science has never been so easy—or so much fun!

With The Everything Kids' Science Experiments Book, all you need to do is gather a few household items and you can recreate dozens of mind-blowing, kid-tested science experiments. High school science teacher Tom Robinson shows you how to expand your scientific horizons from biology, chemistry, physics, technology, and engineering—to outer space.

You'll discover answers to questions like:
—Is it possible to blow up a balloon without actually blowing into it?
—What is inside coins?
—Can a magnet ever be "turned off"?
—Do toilets always flush in the same direction?
—Can a swimming pool be cleaned with just the breath of one person?

Whether you've always been interested in STEM or you're looking for a cool science fair project, you'll want to test these fun and educational experiments for yourself!
About the Author
---
Tom Robinson teaches high school science and math and has coauthored an online advance placement physics course. He lives in the Seattle, Washington area.