Thinkpak: A Brainstorming Card Deck (Cards)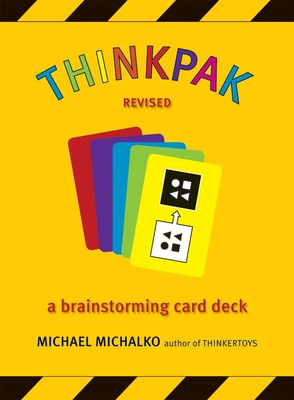 Description
---
A Creative-Thinking Toolbox
 
Looking for a unique invention, an untapped market for an existing product, or a new solution? Stretch and flex your mental muscles with Thinkpak, a creative-thinking tool designed by Michael Michalko, author of the groundbreaking book Thinkertoys. This deck of illustrated idea-stimulating cards distills Michalko's proven methods, allowing you to view challenges in a new light. Shuffle, mix, and match the cards to spark fresh insights, then use the critical evaluation techniques to test, shape, and refine your original ideas into realistic creations. Filled with thought-provoking questions and examples of the techniques put to use, Thinkpak provides endless creative fuel to fire up the imagination.
About the Author
---
Michael Michalko is one of the most highly acclaimed creativity experts in the world and the author of the best-selling creativity book Thinkertoys. As an officer in the U.S. Army, he organized a team of NATO intelligence specialists and international academics in Frankfurt, Germany, to research, collect, and categorize all known inventive-thinking methods. His team applied these methods to various NATO military, political, and economic problems and produced a variety of breakthrough ideas and creative solutions to new and old problems. After leaving military service, he was contracted by the CIA to facilitate think tanks using his creative-thinking techniques. He specializes in providing creativity workshops, seminars, and think tanks for clients who range from individuals to Fortune 500 companies.
Praise For…
---
Praise for Michael Michalko's Thinkertoys: "Designed to change the way you think."
--Wall Street Journal