Fiona's Luck (Paperback)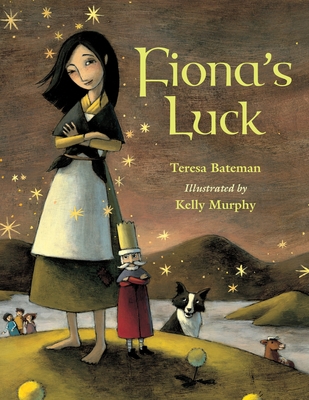 Description
---
An original folktale full of wit, magic, and leprechauns, that is sure to delight for St. Patrick's Day as well as all year round.

The luck of the Irish has waned after the greedy Leprechaun King has taken all the good fortune in Ireland and locked it away. It is up to one cunning girl, Fiona to come up with a plan to get the luck and good tidings back from the leprechauns to help the people of Ireland. Through clever charades, Fiona uses her wit to outsmart the powerful Leprechaun King and restore luck to the Emerald Isle.

Luminous and enchanting illustrations add to the wonder of this original folktale, that is sure to charm readers young and old who are looking for a bit of magic to spark their story time.
About the Author
---
Teresa Bateman was born in Moscow, Idaho, but moved to Washington State when she was three-years-old and that's where she has lived most of her life.

An avid writer and reader, Teresa has been making up stories and poems since she was in grade school. She is the author of FIONA'S LUCK, THE FROG WITH THE BIG MOUTH, and several other books for children. Teresa lives in Tacoma, Washington.
Praise For…
---
Like her Leprechaun Gold (1998), Bateman's latest exudes Irish flair. In this story, the leprechaun king, distraught because the newly arrived "big folk" have begun to soak up too much luck, has the leprechauns gather up all the luck they can find and lock it away in an oak chest so that he may distribute it as he pleases. With all the luck of the land under the control of the leprechaun king, the big folk suffer many hardships-until a clever woman named Fiona tricks him into putting a hole in the oak chest so that a steady stream of luck pours forth once again into the Irish air for all to share. Children will delight in the cunning way that Fiona triumphs over the leprechaun king, as well as in the rhythmic language of this well-told tale. Using acrylic, watercolor and gel medium, Murphy creates simple, angular figures and soft, rich backgrounds, a combination that perfectly accentuates the folksy charisma of Bateman's story. (Picture book. 5-9)

—Kirkus Reviews