The Essential W.S. Merwin (Paperback)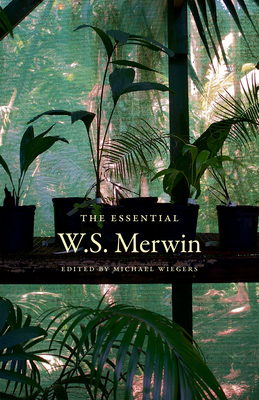 $18.00

We can order this book for you! This will delay shipping your book by 2 - 7 days.
Description
---
"The Essential W.S. Merwin beautifully demonstrates why Merwin has been one of America's most decorated and important poets for more than 60 years."--The Washington Post
"Merwin is one of the great poets of our age."--Los Angeles Times Book Review

"Merwin has become instantly recognizable on the page; he has made for himself that most difficult of all creations, an accomplished style."--Helen Vendler, New York Review of Books

"It is gratifying to read poetry that is this ambitious, that cares about vision and the possibilities of poetry, by a poet who is capable of so much change."--The Nation
The Essential W.S. Merwin
traces a poetic legacy that has changed the landscape of American letters: seven decades of audacity, rigor, and candor distilled into one definite volume curated to represent the very best works from a vast oeuvre, from his 1952 debut,
A Mask for Janus
, to 2016's
Garden Time
.
The Essential W.S. Merwin
includes favorite poems from two Pulitzer Prize-winning volumes; a selection of iconic translations; and lesser-known prose narratives. As the formalism of Merwin's early work loosens into the open, unpunctuated style he developed later in his career--when urgent times demanded innovative modes of expression--readers can trace the evolution of one voice's commitment to moral, spiritual, and aesthetic inquiry. Across the decades, beyond headlines, policies, and trends, W.S. Merwin's poems point to the lessons that hide in the shadows of sentience.
"Poetry is a way of looking at the world for the first time."--W.S. Merwin
Noah's Raven
Why should I have returned?
My knowledge would not fit into theirs.
I found untouched the desert of the unknown,
Big enough for my feet. It is my home.
It is always beyond them. The future
Splits the present with the echo of my voice.
Hoarse with fulfillment. I never made promises.


Since launching his career by winning the Yale Younger Poets Award 1952, W. S. Merwin has authored dozens of books of poetry, prose, and translation. A beloved voice in American literature, Merwin is a former U.S. Poet Laureate and two-time winner of the Pulitzer Prize. He lives in Hawaii, within the palm forest where he wrote, "On the last day of the world I would want to plant a tree."
About the Author
---
W. S. Merwin: W.S. Merwin served as Poet Laureate of the United States and has received every major literary accolade, including two Pulitzer prizes, most recently for The Shadow of Sirius (Copper Canyon) and the National Book Award for Migration: New and Selected Poems (Copper Canyon).