Cemeteries and Graveyards: A Guide for Local and Family Historians in England and Wales (Paperback)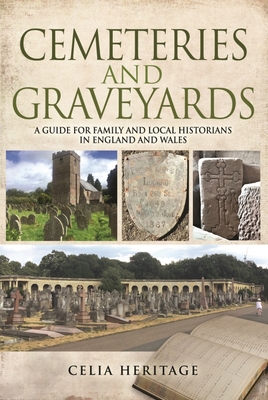 Description
---
Cemeteries, graveyards and funerals are essential topics for family and local historians and they are fascinating subjects in themselves. Celia Heritage's handbook is a wide-ranging, accessible guide to them showing how to track down your ancestors' burial places and memorials, problems you may encounter along the way, and the information you will find. She also looks at changing attitudes towards death and burial and what would have been involved for our ancestors when they buried a loved one.

Chapters concentrate on the history of death and burials, the evolution of churchyards, cemeteries and crematoria, funerals and undertakers and the records associated with each. The coverage is comprehensive, ranging from prehistoric burials and beliefs and the origin of the churchyard to ossuaries, cremation and the preservation and destruction of graves.

The way in which death and burial have been organized over the centuries is covered, as are the differences between town and country churchyards, workhouse and hospital burial grounds, and the practices of different faiths. A particularly valuable section looks at the style and symbolism of memorials and the craft of carving.