Self Love Poetry: For Thinkers & Feelers (Paperback)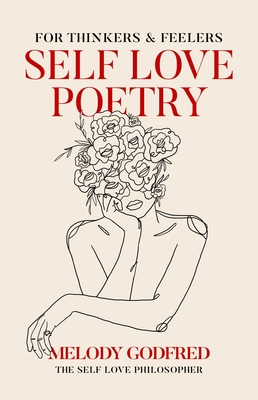 $16.99

We can order this book for you! This will delay shipping your book by 2 - 7 days.
Description
---
Readers have called her work "life changing," "pandemic medicine," and "part of my daily ritual." Oprah Magazine and the Today Show have featured her work for its timely, uplifting wisdom. Now, Self Love Philosopher Melody Godfred shares her first poetry book, Self Love Poetry: For Thinkers & Feelers, a collection of 200 thought-provoking and heart-opening self love poems.

In Self Love Poetry, Godfred explores concepts like authenticity, surrender, resilience, gratitude, believing in yourself, and of course, love, through 100 pairs of poems, each dedicated to a central theme. On the left side of the book are "thinker" poems that light up the analytical, more literal, left side of the brain, and on the right side are companion "feeler" poems that speak to the creative, more emotional right side of the brain. Combined, the poems electrify the mind, body and soul through a completely unique poetry experience that inspires each of us to embrace all parts of ourselves. This empowering poetry book will not only engage you to think and feel, but will make you feel seen, show you how to love yourself, and encourage you to seek out the hope and beauty in the world … and in yourself. It's the perfect gift for yourself or someone you love, especially after a most difficult year. 
About the Author
---
Melody Godfred is the Self Love Philosopher. As a poet, author and entrepreneur, she is devoted to empowering people to love themselves and transform their lives. She is the founder of global self love movement, Fred and Far, and creator of the Self Love Pinky Ring. Her poetry has been featured by Oprah Magazine and Today with Hoda and Jenna, among others, for its wisdom and ability to deeply resonate and uplift. 
 
Melody lives in Los Angeles with the love of her life Aaron, twins Stella and Violet, and son Teddy. Learn more at melodygodfred.com and fredandfar.com and connect with her @melodygodfred and @fredandfar.