To the Realization of Perfect Helplessness (Hardcover)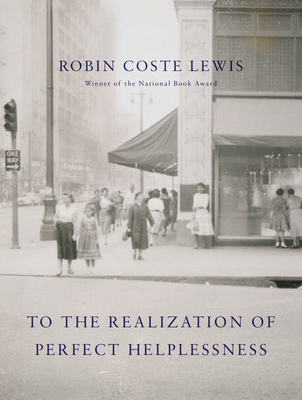 $35.00

We can order this book for you! This will delay shipping your book by 2 - 7 days.
Description
---
A genre-bending exploration of poetry, photography, and human migration—another revelatory visual expedition from the National Book Award–winning poet who changed the way we see art, the museum, and the Black female figure. • Winner of the PEN/Voelcker Award for Poetry

"Lewis pushes the limits of language and image, composing lines alongside a cache of hundreds of photographs found under her late grandmother's bed only days before the house was slated to be razed." —Kevin Young, The New Yorker

Twenty-five years ago, after her maternal grandmother's death, Robin Coste Lewis discovered a stunning collection of photographs in an old suitcase under her bed, filled with everything from sepia tintypes to Technicolor Polaroids. Lewis's family had survived one of the largest migrations in human history, when six million Americans fled the South, attempting to escape from white supremacy and white terrorism. But these photographs of daily twentieth-century Black life revealed a concealed, interior history. The poetry Lewis joins to these vivid images stands forth as an inspiring alternative to the usual ways we frame the old stories of "race" and "migration," placing them within a much vaster span of time and history.

In what she calls "a film for the hands" and "an origin myth for the future," Lewis reverses our expectations of both poetry and photography: "Black pages, black space, black time––the Big Black Bang." From glamorous outings to graduations, birth announcements, baseball leagues, and back-porch delight, Lewis creates a lyrical documentary about Black intimacy. Instead of colonial nostalgia, she offers us "an exalted Black privacy." What emerges is a dynamic reframing of what it means to be human and alive, with Blackness at its center. "I am trying / to make the gods / happy," she writes amid these portraits of her ancestors. "I am trying to make the dead / clap and shout."
About the Author
---
ROBIN COSTE LEWIS is the author Voyage of the Sable Venus, winner of the National Book Award for Poetry and a finalist for the Hurston/Wright Legacy Award and the Los Angeles Times Book Prize. The book was named a best book of the year by The New Yorker and The New York Times, and a best book of the last twenty years by Literary Hub. Lewis is also the coauthor, with Kevin Young, of Robert Rauschenberg: Thirty-Four Illustrations for Dante's Inferno. The former poet laureate of Los Angeles, she holds a PhD in Poetry and Visual Studies from the University of Southern California, an MFA in poetry from New York University, an MTS in Sanskrit and comparative religious literature from Harvard's Divinity School, and a BA from Hampshire College. Her work has appeared in The New Yorker, The New York Times, The Paris Review, Transition, and many other journals. Lewis, who has taught at Hampshire College, Hunter College, Wheaton College, and the NYU MFA in Paris, is writer-in-residence at the USC.
Praise For…
---
Winner of the PEN/Voelcker Award for Poetry • NAACP Image Awards Winner • Best Book of 2022: CNN Style

"Robin Coste Lewis has created a photographic and linguistic archive that draws from the pre-diasporic truth of family — family before Blackness and before the permutations of misunderstandings by others about 'us.' Her poems never stop offering me ways to more deeply understand the complex ways of being migratory, beautiful and optimistic in times of gross inequity. Lewis creates light and portals that reveal our truth through words and the images underneath our grandmother's bed." —Theaster Gates, CNN

"The exquisite To the Realization of Perfect Helplessness, is a book about how the dead do not stay dead. Lewis's elegiac and haunted volume . . . is another voyage. But the view is different, as is the destination: what Lewis is resuscitating here is a community, a family she knew or wishes she'd known." —Hilton Als, The New Yorker
 
"Lewis pushes the limits of language and image, composing lines alongside a cache of hundreds of photographs found under her late grandmother's bed only days before the house was slated to be razed. A sense of loss and near-loss pervades the book. The photopoem does more than preserve—it provokes, mourns, philosophizes, yearns, and celebrates, much like the jazz of Lewis's ancestral Louisiana . . . Its achievement is cosmic and sonic." —Kevin Young, The New Yorker
 
"To the Realization of Perfect Helplessness is a hybrid text concerned with the recent past and excavating what Lewis calls deep time—millennia of Black art-making, community-building and innovation. To accomplish this excavation, Lewis arranges photos she discovered 25 years ago in a suitcase at her grandmother's home so that they are in conversation with her own layered, lush poetry. The result is a book steeped in a particular history—Black migrants from Louisiana living in Los Angeles in the 20th century—yet buoyed by a feeling of boundlessness." —Angela Flournoy, The Los Angeles Times
  
"Juxtapositions of text and photograph spark unexpected electric arcs, illuminating the photographic subjects' inner lives . . . Lewis's language has a washed clarity . . . At once authoritative and piercingly human, To the Realization of Perfect Helplessness is an extraordinary atlas for an unmapped world." —Sylee Gore, The Poetry Foundation

"Lewis weaves a documentary poetic work. Evident from the opening pages, one of the central interests of this exceptional collection is migration: "Signs and marks/ and nothing/ with which to apprentice them.// Evolution—/ the migration/ of imagination—// the image just/ illusion: a profound, prehistoric/ technology of leaving." The pairing of photographs and text expand existing notions of how any single artistic medium or form can capture the nuances of race, family, and history. Shining with Lewis's trademark lyricism and fueled by resonant and inspired juxtapositions, this exquisite book makes an impact worth sharing widely and rereading." —Publishers Weekly (starred review)