Grumpy New Year (Grumps) (Hardcover)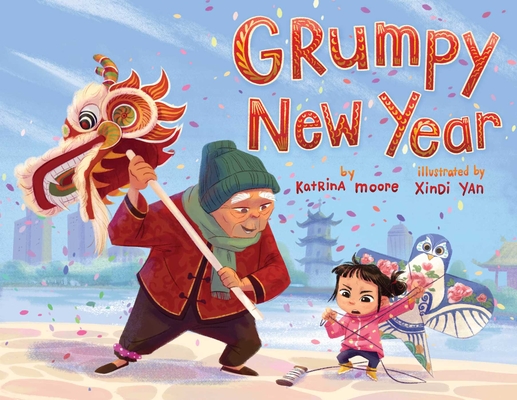 $18.99

We can order this book for you! This will delay shipping your book by 2 - 7 days.
Description
---
This funny and heartwarming follow-up to Grandpa Grumps celebrates Lunar New Year and the love of a doting grandparent.

"A superb celebration of the Lunar New Year." --School Library Journal, STARRED REVIEW

"Moore structures her story as a 10-day countdown, and Daisy's big, conflicting feelings are entirely relatable. The holiday preparations and celebrations come to life in Yan's illustrations, which integrate humor and cultural details. Appended recipes truly make this a treat." --Booklist

"You should sleep on the long flight," said Mama.
Daisy should have slept-
but she didn't.
She was too excited to see Yeh-Yeh!

Daisy is traveling to China, and she's excited to see her Yeh-Yeh again! She has big plans for all the fun they'll have together in preparation for Lunar New Year, like flying kites and making jiao zi. But when she arrives, she has trouble sleeping and is less jolly than she hoped. Throughout the week, Yeh-Yeh tries all sorts of things to help her have a fun holiday and get her past her grumpiness. Will Daisy be able to get some rest and have one perfect day before she goes home?
About the Author
---
Katrina Moore writes and teaches in a part of New Jersey just outside Philadelphia. She's also taught in Maryland, Massachusetts, and New York after earning an MA in elementary education. Her mission is to create books that children will hug for ages, like One Hug, Grandpa Grumps, and the Teeny Houdini series. When not teaching elementary school kids or writing, she's cooking without a recipe, painting outside the lines, or snuggling up with her two kids, husband, Pomapoo pup, and of course, a cozy book. Find out more about Katrina at katrinamoorebooks.com.

Xindi Yan left behind a small city in China, traveling thousands of miles to New York to realize her dream of being a published artist. She received a BFA in illustration from Pratt Institute and has worked as an illustrator for the gaming industry and for children's books, some of which include Grandpa Grumps, Sylvia Rose and the Cherry Tree, The Itty-Bitty Witch, and the Craftily Ever After series. She currently lives in Brooklyn with her husband, and dreams about having a puppy in the near future. See more of Xindi's work at xindiyanart.com.
Praise For…
---
The Lunar New Year is 10 days away. Daisy knows this will be the best one yet, because she gets to spend it in China with her grandpa, Yeh-Yeh. Daisy does not want to miss anything, so despite being advised to sleep on several occasions, she stays awake instead. Over time, Daisy exhibits ever-increasing levels of grumpiness. When the big day finally arrives, Daisy worries that her behavior will lead Yeh-Yeh to second guess his choice to celebrate with her. This vibrant picture book elegantly blends a reverse counting scheme with many of the traditions surrounding Lunar New Year. The narrative itself is written for a young audience, especially as it focuses on the events that lead to Daisy's less-than-ideal behavior. However, there are moments within the text that require inferences to be made-these will engage older readers as well. Dynamic illustrations accompany the narrative, not only providing a visual representation of the myriad foods and activities surrounding this holiday, but also giving readers an excellent, balanced visual experience on each page. From endpaper to endpaper, Chinese traditions, foods, and language are infused within the book. Young readers from all backgrounds will appreciate the universal effects of fatigue and the rich details of the story.

VERDICT A superb celebration of the Lunar New Year, particularly accessible to young elementary aged readers.
— School Library Journal, STARRED REVIEW

In this follow-up to Grandpa Grumps (2020), a Chinese family enjoys a traditional celebration.
There are 10 days until the new year when this picture book opens, and the countdown begins as Daisy travels to China to visit her grandfather, accompanied by Auntie. Daisy stays awake throughout the long flight while anticipating all the fun she and Yeh-Yeh (grandpa) will have together. When her bird kite fails to take off like Yeh-Yeh's, however, and as jet lag sets in, Daisy becomes grumpy: Nothing-not the karaoke or painting or boat ride Yeh-Yeh arranged-feels as enjoyable as she had expected. Daisy's struggle to process her emotions while hoping they will not affect Yeh-Yeh will resonate with anyone who has managed both their own and others' disappointment. Eventually, Daisy succumbs to exhaustion and sleeps for well over a day, waking in time to help make zong zi (sticky rice treats wrapped in bamboo leaves). Only two days are left until the new year when Daisy's spirits finally lift during an outing to the market, where she and Yeh-Yeh share a hearty laugh. Vivid spreads alternate between vignettes and close-ups of facial expressions registering surprise, frustration, and fatigue, while atmospheric full bleeds convey a child's sense of wonder, festive fireworks, an extended-family gathering, and a bustling street parade. Cantonese and Mandarin phrases are featured; the backmatter includes two recipes.

A simpatico portrayal of holiday travel across time zones.
— Kirkus Reviews