Grandad's Camper (Hardcover)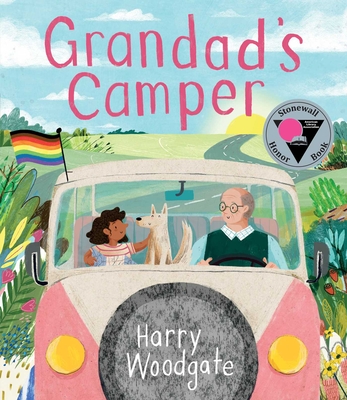 $17.99

We can order this book for you! This will delay shipping your book by 2 - 7 days.
Description
---
A Stonewall Honor Book

Children's Illustrated Book of the Year--British Book Awards

Best Illustrated Book -- Waterstones Children's Book Prize 2022

Discover a wonderful grandfather-granddaughter relationship, as a little girl hatches the perfect plan to get her Grandad adventuring again. And don't miss the inspiring sequel, Grandad's Pride, available now!

"As warm and friendly as a kind grandparent." Kirkus Reviews, STARRED REVIEW

"For the hope for new adventures, and the glimpse of intergenerational kindness and understanding, this lovely book should be on every shelf." School Library Journal, STARRED REVIEW

Best Picture Books of 2021--School Library Journal

Future Classic Picture Books of 2021--Bookstagang's Best of 2021

"An effective tool for teaching empathy, and the intergenerational bond at the story's center is a heartstrings puller. This picture book, in which a girl helps her grandfather embrace life again following the death of Gramps, may well aid young readers in understanding others' grief." Shelf Awareness

Gramps and Grandad were adventurers. They would surf, climb mountains, and tour the country in their amazing camper. Gramps just made everything extra special. But after Gramps died, granddad hasn't felt like traveling anymore. So, their amazing granddaughter comes up with a clever plan to fix up the old camper and get Grandad excited to explore again.

This beautiful picture book honors love and reminds us not only to remember those we have lost, but to celebrate them.
About the Author
---
Harry Woodgate is the Stonewall Honor, British Book Award, and Waterstones Children's Book Prize award-winning author and illustrator of Grandad's Camper, Grandad's Pride, and Timid. Inspired by their university dissertation which revealed a lack of representation for older LGBTQIA+ characters in children's books, Grandad's Camper and Grandad's Pride lovingly portray queer elders. Harry writes and illustrates diverse, inclusive stories that inspire young readers to be inquisitive, creative, kind, and proud of what makes them unique.
Praise For…
---
This road trip has been a lifetime in the making.

Readers are introduced to a young, brown-skinned, curly-haired protagonist on a visit to their White grandfather's cottage. While there, the protagonist, who narrates, and their grandfather play the usual games and do the usual activities, but Grandad also tells stories about how he and Gramps, a man of color who is now deceased, met and fell in love while traveling in an old VW microbus. Inspired by these tales, the narrator encourages Grandad to fix up the van, and the two take it for a road trip to the beach. This is a quiet story that speaks volumes, and astute educators and storytellers will be able to use the book in both intimate storytimes and with larger groups. Caregivers, especially older ones, may see this book as an opportunity to talk about departed loved ones and introduce their happy memories to a younger generation-many a family will find themselves pulling out photo albums to relate their own origin stories. The artwork is enticing and rich, and readers will be happy to pore over the pages studying details like Grandad's friendly dog and the textured backgrounds as they read and reread the story. This book deserves pride of place on any bookshelf, be it in a library, school, or home.

As warm and friendly as a kind grandparent.
— Kirkus Reviews, STARRED REVIEW

Before they were Grandad and Gramps, two young men, waving a rainbow flag from their pink VW bus, were a romantic couple, traveling the world-or at least Europe-together, camping under the stars. Grandad, white, and now balding, recounts their adventures to his young grandchild who hangs on every word. The grandchild, with long curls, is Black, as was Gramps, who has passed away. That child is inspired to help Grandad dust off the old camper/bus in the garage, give it a new blue stripe, change a tire, and start out for new adventures. Woodgate's explosively colorful scenes center most of the book on the men, with snapshot after snapshot of their loving life together. That leaves the child's role (and there is no mention of parents, or even that Grandad and Gramps had children) as brackets to the piece, only becoming an active part of the story at the end. Still, there is a wholesome gentility to every page, of enjoying every minute, even in memory, of growing sweet cherries in the garden, and of filling a home with mementos and stories. The book reflects on an aspect of mature gay life, a piercing sense of loss, and in the child, of the possibilities still to be found. VERDICT For the hope for new adventures, and the glimpse of intergenerational kindness and understanding, this lovely book should be on every shelf.
— School Library Journal, STARRED REVIEW

There are some fine picture books out there revolving around a child's experience of loss, but there aren't many designed to help kids understand someone else's grief. With the affecting Grandad's Camper, Harry Woodgate takes a step toward reducing that deficit. To do so, they enlist a groovy pink and white camper with a zippy blue stripe as a symbol of both the past and moving on.
The art throughout Grandad's Camper is dashing, the layouts somehow chockablock and yet never too busy. Geometric elements create an orderliness that allows for the book's boundless palette. When Grandad reflects back on his life with Gramps, his memories take the visual form of vignettes showing the younger versions of the men--Grandad white, Gramps with the same brown skin tone as the girl--on the road, at home, or enjoying the great outdoors, but always delighted to be together.
This picture book, in which a girl helps her grandfather embrace life again following the death of Gramps, may well aid young readers in understanding others' grief.
— Shelf Awareness