Trials of Apollo, The Book One The Hidden Oracle (Special Limited Edition) (Hardcover)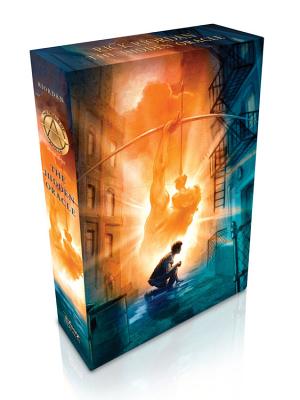 Other Books in Series
This is book number 1 in the Trials of Apollo series.
Description
---

A deluxe, autographed edition of the first installment in an exciting new five-book quest adventure about gods and demigods by best-selling author Rick Riordan.

About the Author
---
Rick Riordan, dubbed "Storyteller of the Gods" by Publishers Weekly, is the author of three #1 New York Times best-selling middle grade series with millions of copies sold throughout the world: Percy Jackson and the Olympians, based on Greek mythology; the Kane Chronicles, based on Ancient Egyptian mythology; and the Heroes of Olympus, based on Greek and Roman mythology. Rick collaborated with illustrator John Rocco on two best-selling collections of Greek myths for the whole family: Percy Jackson's Greek Gods and Percy Jackson's Greek Heroes. The first book in his Magnus Chase and the Gods of Asgard trilogy based on Norse mythology, The Sword of Summer, also debuted at #1 on the New York Times list. Rick lives in Boston, Massachusetts with his wife and two sons. Follow him on Twitter at @camphalfblood.


John Rocco (www.roccoart.com) studied illustration at Rhode Island School of Design and The School of Visual Arts. In addition to writing and illustrating several of his own picture books, including Blizzard and the Caldecott Honor-winning and New York Times best-selling Blackout, he has created all of the cover art for Rick Riordan's best-selling Percy Jackson, Kane Chronicles, and Heroes of Olympus series. He has also illustrated books by Whoopi Goldberg and Katherine Patterson, and he recently co-authored a novel, Swim That Rock, with Jay Primiano. Before becoming a full-time children's book creator, he worked as an art director on "Shrek" for Dreamworks, and for Disney Imagineering. He lives in Los Angeles.

Praise For…
---
PRAISE FOR THE BLOOD OF OLYMPUS

". . .fans will revel in the adventures, wit, and memorable characters found in this thundering conclusion to The Heroes of Olympus series."—<EM>Booklist Online</EM>

PRAISE FOR THE MARK OF ATHENA

"With a true storyteller's sense of pacing, Riordan creates another compelling adventure, right down to the cliff-hanger at the end. Stay tuned for volume four."—<EM>Booklist</EM>

PRAISE FOR THE SON OF NEPTUNE

"Fans will find plenty to cheer about as Percy and his allies move slowly toward fulfilling the mysterious Prophecy of Seven."—<EM>Booklist</EM>

PRAISE FOR THE HOUSE OF HADES

"In this adventure, victories are hard-won and the essence of bravery nuanced, making the journey as satisfying as it is entertaining."—<EM>Kirkus</EM>

PRAISE FOR THE LOST HERO

"Readers longing for a return to Camp Half-Blood will get their wish.... ...the action scenes come frequently as the three heroic teens fight monstrous enemies in North American locales..... Flashes of humor lighten the mood at times, but a tone of urgency and imminent danger seems as integral to this series as the last. With appealing new characters within a familiar framework, this spin-off will satisfy the demand for more."—<EM>Booklist</EM>