The Power of Her Pen: The Story of Groundbreaking Journalist Ethel L. Payne (Hardcover)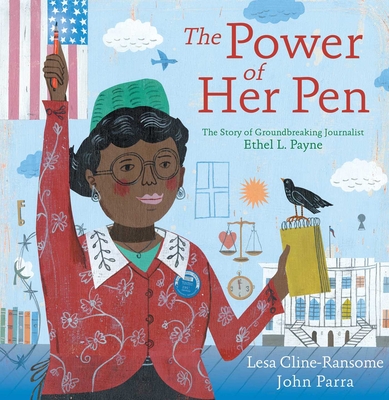 Description
---
"A powerful story." —The Horn Book

"A worthy addition to children's biography collections." —Booklist

"A solid treatment of an important but little-known figure, and it may prompt kids to think about the role and composition of a free press." —BCCB

"Cline-Ransome tells [Ethel Payne's] story with economy and drive. 'Somebody had to do the fighting,' she quotes Payne saying, 'somebody had to speak up.'" —Publishers Weekly

Renowned author Lesa Cline-Ransome and celebrated illustrator John Parra unite to tell the inspiring story of Ethel Payne, a groundbreaking African American journalist known as the First Lady of the Black Press.

"I've had a box seat on history."

Ethel Payne always had an ear for stories. Seeking truth, justice, and equality, Ethel followed stories from her school newspaper in Chicago to Japan during World War II. It even led her to the White House briefing room, where she broke barriers as the only black female journalist. Ethel wasn't afraid to ask the tough questions of presidents, elected officials, or anyone else in charge, earning her the title, "First Lady of the Black Press."

Fearless and determined, Ethel Payne shined a light on the darkest moments in history, and her ear for stories sought answers to the questions that mattered most in the fight for Civil Rights.
About the Author
---
Lesa Cline-Ransome is the author of many award-winning and critically acclaimed nonfiction books for young readers, including Game Changers: The Story of Venus and Serena Williams; My Story, My Dance: Robert Battle's Journey to Alvin Ailey; and Before She Was Harriet. She is also the author of the novel Finding Langston, which received a Coretta Scott King Honor Award and five starred reviews. She lives in the Hudson Valley region of New York. Learn more at LesaClineRansome.com.

John Parra's illustrations for Frida Kahlo and Her Animalitos, written by Monica Brown, earned the book a New York Times Best Illustrated Book designation. He also illustrated Green Is a Chile Pepper: A Book of Colors by Roseanne Thong, which received a Pura Belpré Honor and the Américas Book Award: Commended; Marvelous Cornelius: Hurricane Katrina and the Spirit of New Orleans by Phil Bildner, which won the Golden Kite Award for Picture Book Illustration and was a Bank Street Best Book of the year; and Hey, Wall, by Susan Verde, which School Library Journal called "a must-purchase" in a starred review. Learn more at JohnParraArt.com.
Praise For…
---
It would have been near-impossible to predict that a Chicago South Side girl, the granddaughter of slaves, would end up firing pointed questions at U.S. presidents, serving as a critical information conduit for Black newspaper readership, and opening doors for Black and female journalists. Ethel Payne followed her passion for writing and storytelling from her high school English classes, into her job as a social director at a military base in post–World War II Japan, and onto a permanent position with the venerable African-American newspaper the Chicago Defender. There her coveted White House press pass put her face to face with chief executives, many of whom found themselves cornered by her questions about civil rights policies ("Ethel wrote the stories that the mainstream media refused to. It was her questions to presidents that finally made readers of all races pay attention to the plight of African Americans"). Parra's stylized acrylic paintings place figures with the knife-edged crispness of paper collage against the textured surfaces of illustration board, and intersperse well-placed vignettes that suggest the length and breadth of Payne's long career. This is a solid treatment of an important but little-known figure, and it may prompt kids to think about the role and composition of a free press. An author's note expands information, and source credits, a brief adult bibliography, and a list for further reading are included. EB
— BCCB

Chances were few for young women of color around the Great Depression, but when Ethel L. Payne's (1911–1991) Chicago high school wouldn't let a black student work on its newspaper, she got it to publish her first story; then, during college, she took writing classes at a local school that offered free tuition. After organizing locally during WWII, she seized the opportunity to become a correspondent in Tokyo and found herself with sudden global influence: "One of Ethel's articles about black soldiers stationed in Japan had made its way across the seas." After several years writing for the Chicago Defender, a black newspaper, she was issued White House press credentials and served through four administrations. "I've had a box seat on history," she said, "and that's a rare thing." Folk-style portraits by Parra couple maturing images of Payne with historical emblems, and Cline-Ransome tells her story with economy and drive. "Somebody had to do the fighting," she quotes Payne saying, "somebody had to speak up." An author's note and bibliography conclude. Ages 4–8. (Jan.)


— Publishers Weekly

CLINE-RANSOME, Lesa. The Power of Her Pen: The Story of Groundbreaking Journalist Ethel L. Payne. illus. by John Parra. 48p. S. & S./Paula Wiseman Bks. Jan. 2020. Tr $17.99. ISBN 9781481462891.

Gr 2-5–African American journalist Ethel L. Payne (1911–91) "collected the stories of people who followed a path paved with dreams." Her interest in oral histories started at an early age—her grandparents shared their experiences laboring in the cotton fields under slavery, and her parents told stories of their sharecropping days. Payne may have grown up poor, but her childhood was rich in language and love. Every Saturday, Payne's mother took her daughter and her five siblings to the libraries on the white side of town. Payne's English teacher encouraged her to write, and, eventually, the all-white school newspaper published her first story. Payne lost her father at an early age and endured bigotry and discrimination. But none of these hardships stopped her from pursuing her dreams. She went to college, fought racism, and shattered barriers to become the only black female journalist in the White House briefing room. She fearlessly asked tough questions of the elected officials and helped to enact change in the country. In Payne's quest for civil rights, she became known as the "First Lady of the Black Press." Told in a matter-of-fact style, accompanied by rich acrylics, Payne's biography is brought to life for young students who may not know about the impact she made for journalists of color. VERDICT A strong addition to an elementary library biography collection.–Annette Herbert, F. E. Smith Elementary School, Cortland, NY
— School Library Journal

Ethel L. Payne grew up on the South Side of Chicago surrounded by stories from her parents and from her grandparents, who had been enslaved. These stories, weekly trips to the library, and encouragement from teachers and family helped Payne become a strong writer. Believing that "somebody had to do the fighting, somebody had to speak up," Payne became a journalist and used her work as a tool for action and activism throughout her life. She captured the stories of Black soldiers stationed in post–WWII Japan, which led to a job with the Chicago Defender. She began covering the presidency, "one of only three black journalists issued a White House press pass," and worked through the Carter administration, becoming known as "The First Lady of the Black Press." The moments from Payne's life that Cline-Ransome chooses to highlight, paired with Parra's textured, iconographic acrylic paintings, create a powerful story that demonstrates the ways someone with a gift for writing can use it as a tool for fighting injustice. In an author's note, Cline-Ransome discusses her own attempts at being a journalist and the fearlessness it takes to be an effective one. A bibliography and further reading list are appended.
— Horn Book Magazine

This picture book biography of Ethel L. Payne, one of the first African American press correspondents for the White House, is a comprehensive look at the life of a journalism pioneer. From integrating a Chicago school during her childhood, through her reporting on Black soldiers in Japan, to her coverage of the White House during the Civil Rights era and beyond, Payne's life was full of important evens, and Cline-Ransome (Game Changers: The Story of Venus and Serena Williams, 2018) presents the story with clarity and purpose. Parra's (Frida Kahlo and Her Animalitos, 2017) distinctive, folk-art-style acrylic paintings in bold colors are an appealing complement to Cline-Ransome's text . . . A solid account of a lesser-known figure and a worthy addition to children's biography collections.
— Booklist