The Youngest Marcher: The Story of Audrey Faye Hendricks, a Young Civil Rights Activist (Hardcover)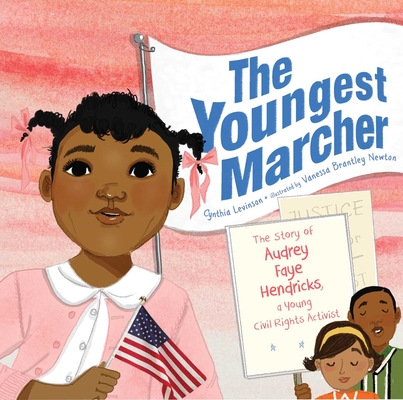 $18.99

We can order this book for you! This will delay shipping your book by 2 - 7 days.
Description
---
Meet the youngest known child to be arrested for a civil rights protest in Birmingham, Alabama, 1963, in this moving picture book that proves you're never too little to make a difference.

Nine-year-old Audrey Faye Hendricks intended to go places and do things like anybody else.

So when she heard grown-ups talk about wiping out Birmingham's segregation laws, she spoke up. As she listened to the preacher's words, smooth as glass, she sat up tall. And when she heard the plan—picket those white stores! March to protest those unfair laws! Fill the jails!—she stepped right up and said, I'll do it! She was going to j-a-a-il!

Audrey Faye Hendricks was confident and bold and brave as can be, and hers is the remarkable and inspiring story of one child's role in the Civil Rights Movement.
About the Author
---
Cynthia Levinson is the author of nonfiction books for young readers that focus on social justice, including The Youngest Marcher, The People's Painter, and Fault Lines in the Constitution. Her books have received the Sibert Medal, the Carter G. Woodson Book Award, the Jane Addams Children's Book Award, and numerous other honors. She has two daughters, two sons-in-law, four grandchildren, and two grand-dogs—all of whom are thoroughly splendid. Cynthia and her husband divide their time between Austin and Boston, which, helpfully, rhyme, in case she gets lost.

Vanessa Brantley-Newton is a self-taught artist and has attended both FIT and SVA of New York, where she studied fashion and children's illustration. Vanessa is the illustrator of A Night Out with Mama by Quvenzhané Wallis, The Youngest Marcher by Cynthia Levinson, Presenting…Tallulah by Tori Spelling, and Early Sunday Morning by Denene Millner, among others. She hopes that when people look at her work, it will make them feel happy in some way, or even reclaim a bit of their childhood.
Praise For…
---
*NAACP Image Award Finalist*
*Bank Street Best Children's Books of the Year*
*Carter G. Woodson Award*
*Julia Ward Howe Award*
*SCBWI Crystal Kite Award*
*Goodreads Choice Award Finalist*
*A United Nations Sustainable Development Goals Book Club Selection*

"It's one of the more shocking and little-known stories of the civil rights movement: In 1963, the City of Birmingham jailed hundreds of kids for joining the Children's March. Among them was 7-year-old Audrey Faye Hendricks, taken from her family to spend a week behind bars, eating "oily grits" and sleeping on a bare mattress. Levinson and Newton keep her story bright and snappy, emphasizing the girl's eagerness to make a difference and her proud place in her community."
— The New York Times Book Review, February 12, 2017

"Readers can decide whether, were they in Audrey's shoes, they would make the same dangerous decision.... Levinson...carefully tailors her text to a level suitable to a younger audience. Newton's digital illustrations burst with color against a white background.... A vivid reminder that it took a community to fight segregation and the community responded."
— Kirkus Reviews, November 2016

"A significant portrayal of Audrey Faye Hendricks and the Children's March."
— School Library Journal, November 2016

"Having honest and open discussions about race, tolerance, and acceptance from a very early age can set the stage for a much broader and deeper understanding of these issues as your child grows. Here [is a book] that can help spark these conversations.... The story of the youngest known civil rights protester in history will teach children that you're never too small to stand up for what you believe in."
— Huffington Post, "20 Children's Books To Spark Important Discussions About Race And Tolerance"

"Levinson returns to the subject of We've Got a Job as she recounts, for a younger audience, the story of Audrey Faye Hendricks and her role in the 1963 Children's March in Birmingham, Ala. Moving briskly through events, Levinson explains how the young Hendricks was eager to stand up to segregation, marching alongside thousands of fellow students, who were subsequently arrested. Newton's bright, digitally assembled collages adeptly highlight the danger of the situation—grim cells, barbed-wire fences, children blasted with fire hoses—while emphasizing the power of the marchers' collective efforts to push back against injustice."
— Publishers Weekly, December 2016

"Audrey's third-person perspective is well represented and storytold, with short, punchy sentences especially vivid in conveying individual testimony and movement goals."
— The Bulletin of the Center for Children's Books, February 2017

"[This book] can introduce even the youngest children to the idea of rebellion in an age-appropriate and inspiring way. Give the princesses and pirates a rest and try these inspiring reads—just don't be surprised if bedtime negotiations rise to a new level. Every activist has to start somewhere!.... The book tells the true story of Audrey Faye Hendricks, who was arrested at a civil rights protest in Birmingham, Ala., when she was 9 years old. In it, Audrey is introduced to stories about the Ku Klux Klan and police brutality, and she decides to join the protest. The compelling story about white supremacy and the civil rights era illustrates the courage and personal sacrifice that activism requires, and teaches kids why it matters."
— The Washington Post, "The best books for raising activist kids," March 10, 2017

"Levinson tells the true story of Audrey Faye Hendricks, the youngest participant in the 1963 Birmingham Children's March.... The well-paced text captures a child's voice and presents time and place realistically. Brightly colored digital collages clearly depict both the hopeful spirit and the rawer emotions of one community involved in the civil rights struggle; a double-page spread of Audrey curled up on a bare mattress in her jail cell is particularly effective."
— The Horn Book Magazine, May/June 2017