My Brother Quentin (Paperback)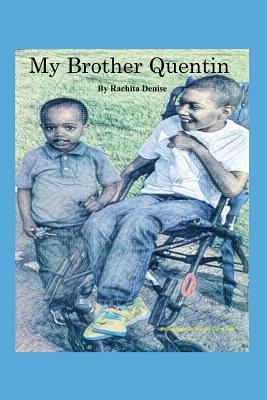 Description
---
My Brother Quentin is a loving tribute to the author's deceased son, William R. Mason III (Tre), who died at two years old from complications of a mitochondria disorder.


In My Brother Quentin, Rachita Denise describes the loving relationship between her son Mehki and his brother Quentin. Quentin is disabled and cannot walk or talk. Because Quentin is different, people sometimes look at him with judgment and treat him unkindly. Mehki loves his brother and does everything he can to support him and show him love. This story teaches children compassion and acceptance of people who are different from themselves.

About the Author

Rachita Denise is a single mother of two boys who are twelve years apart. Her oldest living son has cerebral palsy. He is challenged in both motor skills and verbal communication. Her family and friends continue to admire her strength and dedication to caring for her children. But, not only does Rachita care for her children, you can find her advocating for other children with special needs. She currently serves as director of Tr Foundation, which provides emotional, financial, and spiritual support to families with children who have special needs. She knows firsthand the obstacles that parents and families face when caring for a special needs child. But, of course, she couldn't stop there. In effort to support single mothers, like her, Rachita is the founder of My Life N Balance, L.L.C., which empowers moms to balance motherhood while also living out their dreams. Rachita inspires individuals as well as families living by: "For with God nothing shall be impossible." Visit her website at www.mylifenbalance.com for more information on her efforts.