Inside Cat (Brendan Wenzel) (Hardcover)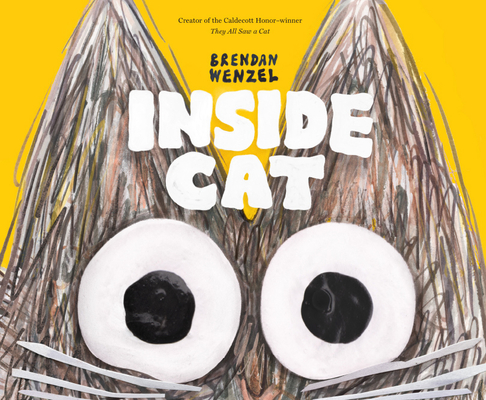 Description
---
New York Times bestselling children's book author/illustrator Brendan Wenzel offers a funny and wise celebration of observation, curiosity, and indoor life.
From the endlessly inventive Caldecott Honor author/illustrator of 
They All Saw a Cat
 comes a picture book that is playful, perceptive, and full of delights. Inside Cat is just that: an inside cat. But while the cat's life is bound by the walls of an unusual house, it's far from dull.
As the cat wanders, wonders, stares, and snacks, roaming from room to room and place to place, both cat and reader discover worlds and sensations beyond what's right in front of them. And just when Inside Cat is sure it knows everything, another surprise awaits! Fresh, funny, and wise, 
Inside Cat
 is a feast for the eyes and the imagination.
ENCOURAGES IMAGINATIVE THINKING: All of Brendan Wenzel's books play with observation, perception, and the imagination. Readers will see how the cat's imagination grows as it explores its building and will be inspired to make their own imaginative journeys.
ENCOURAGES OBSERVATION: There are many details in this picture book, from the decorations in the different rooms to the animals that appear. Young readers will enjoy seeing how these details affect the cat and will flip pages back and forth to see how the cat has incorporated these details into its thinking.
CELEBRATES BEING CREATIVE INDOORS: The cat's world is inside a building, and it enjoys every aspect of being inside. The book sends a positive message about playing inside that parents will appreciate.
GREAT TO READ ALOUD: The rhythmic narrative and refrains are catchy and fun to read out loud and invite audience participation.
BELOVED AUTHOR/ILLUSTRATOR: Brendan Wenzel is a bestselling Caldecott Honor-winning artist and a sought-after speaker at schools and libraries. His illustrated books 
They All Saw a Cat
,
Hello Hello
, and 
A Stone Sat Still
 have received multiple starred reviews, state awards, and are family and classroom favorites.
Perfect for:
Parents and grandparents looking for a fun story to read aloud with toddlers
Cat lovers
Fans of Brendan Wenzel
Teachers and librarians
Adding to the shelf alongside books by Sandra Boynton, Margaret Wise Brown, and Dr. Seuss
About the Author
---
Brendan Wenzel is a New York Times bestselling author and illustrator based in upstate New York. He has written and illustrated several books for children, including A Stone Sat Still, Hello Hello, and They All Saw A Cat, which was the recipient of a Caldecott Honor. He is also a proud collaborator with many groups working to protect and conserve wild places and creatures. You can find more of his work at Brendanwenzel.info.
Praise For…
---
[Inside Cat] leaves you breathless . . . [A] delicious charmer . . . Excellent for stimulating creative-thinking, art, and writing activities."—Kirkus Reviews, starred review
"Wenzel's multimedia spreads are loose and open-ended, rich and suggestive; they'll leave readers wondering what's out there beyond their own windows—and beyond their own experiential selves."—Publishers Weekly, starred review
"[I]mpressive . . . The rhyming verse is immensely satisfying . . . [T]he closing endpapers delight with another feline surprise. Just ask Inside Cat: surprises are always around the bend for those curious enough to expand their horizons."—The Horn Book Magazine
"[C]lever and enjoyable, [Inside Cat] is well suited to children and adults alike. . . . This cat's world is filled with imagination and wonder, and readers of all ages will love this unique, cleverly executed story."—School Library Journal
"[Inside Cat is a] tour de force in terms of perspective, imagination, and creativity, [and it] reveals new details with each viewing, especially the final all-exterior spread."—Booklist, starred review
"
"Wenzel cleverly depicts the inside of the house as predominantly negative space with partially transparent outlines, while the views out of the windows in varied shapes are depicted in vivid color. . . . The soothing cadence with its recurring refrain ('Inside cat knows many windows, finds a view wherever it goes') makes this a pleasing bedtime pick for those who want to contemplate what their pets think of the outside world and enjoy sparking their own imaginations before sleep."—The Bulletin of the Center for Children's Books, starred review
"
"Wenzel is a master of perspective. . . . With that diminutive last word Inside Cat strides out the front door into a vast, jumbled, visually cacophonous cityscape — a page turn to rival the cut to color that accompanied Judy Garland's first steps in Oz." —The New York Times