Quelle Tête! (Paperback)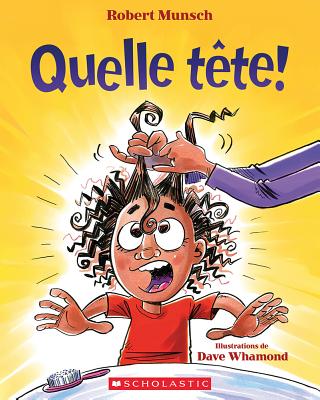 Description
---
See below for English description.
Ashley adore ses beaux cheveux, mais il faut une TERNIT pour les tresser. Peut- tre que sa grand-m re pourra l'aider...
Ashley can't figure out why her mom always insists on putting her hair up in braids. Her hair might look beautiful in braids, but it always takes all day and Ashley never has time to do anything fun. Until grandma comes for a visit and they decide it's time to braid Mom's hair
Original title: Braids
About the Author
---
Robert Munsch est n? en 1945 ? Pittsburgh, en Pennsylvanie. C'est en travaillant dans une garderie qu'il d?couvre son talent de conteur, puis son habilet? ? ?crire ses propres histoires. Aujourd'hui, Robert Munsch est l'auteur qui vend le plus de livres pour les jeunes au Canada. Ses albums sont aussi populaires ailleurs dans le monde et ont ?t? traduits en une multitude de langues. L'auteur habite Guelph, en Ontario.Dave Whamond a illustr? plus de 25 albums jeunesse, dont la s?rie Margot et My Think-a-ma-Jink. Quand ses enfants ?taient petits, il leur lisait des livres de Robert Munsch et r?vait d'en illustrer un! Dave habite avec sa famille ? Calgary, en Alberta. Robert Munsch is Canada's bestselling author of more than fifty picture books for young readers. His heartwarming and hilarious stories are beloved by children, parents, teachers and booksellers alike. In 2009, he was inducted into Canada's Walk of Fame. He lives in Guelph, Ontario.Dave Whamond is an illustrator and cartoonist whose work bursts with energy and humor. His syndicated cartoon, Reality Check, can be found in newspapers around the world. Dave lives in Calgary, Alberta.