Red Hood and the Outlaws Vol. 1: Dark Trinity (Rebirth) (Paperback)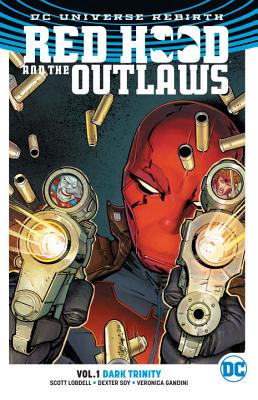 Description
---
A part of DC Universe: Rebirth!

Jason Todd, a.k.a. Red Hood has been many things--a Robin, dead, the Red Hood--now he's back and he's embracing his bad side!

With his new status as a villain, Red Hood plans to take down Gotham's underworld from the inside. Joined by a fallen Amazon named Artemis and a half-baked Superman clone named Bizarro, this dark trinity will soon discover that the line between hero and villain is harder to discern than they might think.

Collects Red Hood & the Outlaws #1-6.

Rebirth honors the richest history in comics, while continuing to look towards the future. These are the most innovative and modern stories featuring the world's greatest superheroes, told by some of the finest storytellers in the business. 

Honoring the past, protecting our present and looking towards the future. This is the next chapter in the ongoing saga of the DC Universe. The legacy continues.
About the Author
---
Scott Lobdell is a veteran of the comic book industry, having worked with nearly every major American comic book publisher. Lobdell is best known for his work on Marvel's X-Men franchise in the 1990s, penning such works as Uncanny X-Men, Excalibur, The Age of The Apocalypse, Generation, amongst others. He is currently the writer of Doomed and Red Hood/Arsenal.
Praise For…
---
"The Jason Todd Batman fans have been waiting for."—Screen Rant

"A successful rebirth, indeed."—Newsarama

"RED HOOD AND THE OUTLAWS has become the latest in a long line of DC books to receive a boost thanks to Rebirth." —IGN