The Great Cat: Poems About Cats (Everyman's Library Pocket Poets Series) (Hardcover)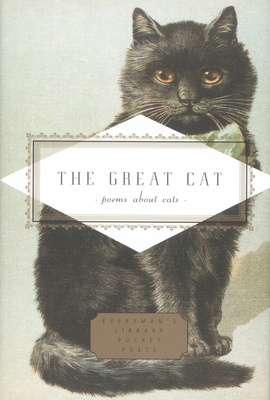 $20.00

Backordered - available date varies.
Description
---
This delightful anthology gives us a teeming litter of literary tributes to the ever-fascinating, ever-mystifying cat.

The feline has inspired poetic adoration since the days of the pharaohs, and the poems collected here cover an astonishing range of periods, cultures, and styles. Poets across the continents and centuries have described the feline family–from kittens to old toms, pussycats to panthers–doing what they do best: sleeping, prowling, prancing, purring, sleeping some more, and gazing disdainfully at lesser beings like ourselves. Here are Yeats's Minnaloushe, Christopher Smart's Jeoffry, Lewis Carroll's Cheshire Cat, T. S. Eliot's Rum Tum Tugger, William Blake's tyger and Rilke's panther. Here are tributes from Sufi mystics, medieval Chinese poets, and haiku masters of imperial Japan, from Chaucer, Shelley, Borges, Neruda, Dickinson, and Shakespeare. Here are the cats of Mother Goose, and the one who wore the hat for Dr. Seuss.

The Great Cat will delight cat lovers everywhere, celebrating as it does the beauty, the mystery, the gravity, the grace, and, of course, the unassailable superiority of the cat.
About the Author
---
Emily Fragos is a poet who lives in New York City. Her first book of poems, Little Savage, won the David Craig Austin Prize from Columbia University. She edited the Everyman's Library Pocket Poet anthology The Great Cat: Poems About Cats.