The General in His Labyrinth: Translated and Introduced by Edith Grossman (Everyman's Library Contemporary Classics Series) (Hardcover)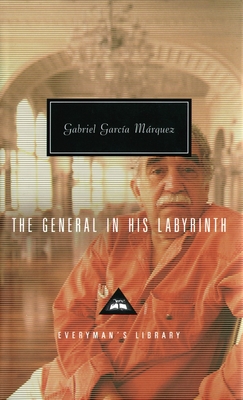 Description
---
Gabriel García Márquez's most political novel is the tragic story of General Simón Bolívar, the man who tried to unite a continent.
Bolívar, known in six Latin American countries as the Liberator, is one of the most revered heroes of the western hemisphere; in García Márquez's brilliant reimagining he is magnificently flawed as well. The novel follows Bolívar as he takes his final journey in 1830 down the Magdalena River toward the sea, revisiting the scenes of his former glory and lamenting his lost dream of an alliance of American nations. Forced from power, dogged by assassins, and prematurely aged and wasted by a fatal illness, the General is still a remarkably vital and mercurial man. He seems to remain alive by the sheer force of will that led him to so many victories in the battlefields and love affairs of his past. As he wanders in the labyrinth of his failing powers–and still-powerful memories–he defies his impending death until the last.
The General in His Labyrinth is an unforgettable portrait of a visionary from one of the greatest writers of our time.
About the Author
---
García Márquez was born in Aracataca, Colombia, in 1928. He attended the University of Bogotá and went on to become a reporter for the Colombian newspaper El Espectador. He later served as a foreign correspondent in Rome, Paris, Barcelona, Caracas, and New York. Winner of the Nobel Prize for Literature in 1982, he is the author of several novels and collections, including No One Writes to the Colonel and Other Stories, The Autumn of the Patriarch, Innocent Erendira and Other Stories, Chronicle of a Death Foretold, The General in His Labyrinth, Strange Pilgrims, and Love and Other Demons.
Praise For…
---
"A fascinating tour de force and a moving tribute to an extraordinary man." –Margaret Atwood, New York Times Book Review

"A distinguished book…García Márquez splendidly presents his image of Latin America and of a great man redux." –Los Angeles Times Book Review

"A stunning portrait, convincing and poignant." –San Francisco Chronicle

"Passage after passage shines with the brilliance of García Márquez…He has invented some of the magic characters of our age. His General, however, is not only magic, but real." –The Wall Street Journal

"As usual, García Márquez's craftsmanship is nothing less than superb. His General's story is tragic; his telling of it is luminous." –Dallas Morning News

Translated and with a new Introduction by Edith Grossman