Dragonslayer (Wings of Fire: Legends) (Paperback)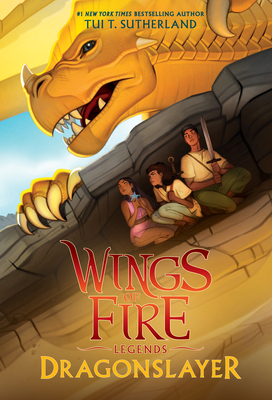 $9.99

We can order this book for you! This will delay shipping your book by 2 - 7 days.
Description
---
This special edition of the #1 New York Times bestselling Wings of Fire series soars back in time to give readers a glimpse of Pyrrhia through new eyes.In the shadow of wings . . . humans fight for survival. Ivy doesn't trust the Dragonslayer. He may be her father and the beloved ruler of Valor, but she knows he's hiding more than the treasure from the sand dragon he killed two decades ago.Leaf doesn't trust dragons. They're the reason his favorite sister, Wren, is dead, and now he'll do whatever it takes to slay even one.Wren doesn't trust anyone. She swore off humans after her village tried to sacrifice her to the dragons. She only has one friend, a small, wonderful mountain dragon named Sky, and they don't need anyone else.In a world of dragons, the humans who scramble around underfoot are easy to overlook. But Ivy, Leaf, and Wren will each cross paths with dragons in ways that could shape the destiny of both species. Is a new future possible for all of them . . . one in which humans can look to the skies with hope instead of fear?
About the Author
---
TUI T. SUTHERLAND is the author of the New York Times and USA Today bestselling Wings of Fire series, the Menagerie trilogy, and the Pet Trouble series, as well as a contributing author to the bestselling Spirit Animals and Seekers series (as part of the Erin Hunter team). In 2009, she was a two-day champion on Jeopardy! She lives in Massachusetts with her wonderful husband, two awesome sons, and two very patient dogs. To learn more about Tui's books, visit her online at tuibooks.com.
Praise For…
---
Praise for The Lost Heir (Wings of Fire, Book Two):"[A] perfect adventure for young fantasy fans to sink their teeth into." -- School Library JournalPraise for The Dragonet Prophecy (Wings of Fire, Book One):"Dramatic battle scenes, double-crosses, and one seriously deranged queen makes Wings of Fire a series that should have broad appeal for middle-grade fantasy fans." -- Booklist"Fast-paced and detailed, this first installment in a new adventure series is entertaining." -- Kirkus Reviews"Readers of all ages will be enchanted by the humanistic storyline and the page-turning excitement." -- Library Media Connection"A thrilling new series for dragon-lovers." -- Austin Family

Praise for The Lost Heir (Wings of Fire, Book Two):"[A] perfect adventure for young fantasy fans to sink their teeth into." -- School Library JournalPraise for The Dragonet Prophecy (Wings of Fire, Book One):"Dramatic battle scenes, double-crosses, and one seriously deranged queen makes Wings of Fire a series that should have broad appeal for middle-grade fantasy fans." -- Booklist"Fast-paced and detailed, this first installment in a new adventure series is entertaining." -- Kirkus Reviews"Readers of all ages will be enchanted by the humanistic storyline and the page-turning excitement." -- Library Media Connection"A thrilling new series for dragon-lovers." -- Austin Family