This Is Just My Face: Try Not to Stare (Paperback)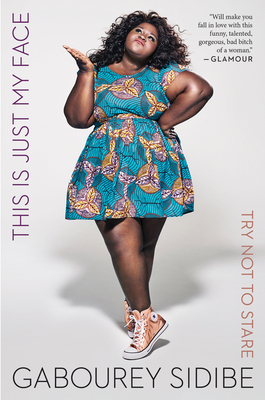 $15.99

We can order this book for you! This will delay shipping your book by 2 - 7 days.
Description
---
The Oscar-nominated Precious star and Empire actress delivers a riveting memoir that is wise, complex, smart, funny, and breaks the mold, just like Sidibe, herself.

Gabourey Sidibe - "Gabby" to her legion of fans - skyrocketed to international fame in 2009 when she played the leading role in Lee Daniels' acclaimed movie Precious. In This Is Just My Face, she shares a one-of-a-kind life story in a voice as fresh and challenging as many of the unique characters she's played onscreen.

With full-throttle honesty, Sidibe paints her Bed-Stuy/Harlem family life with a polygamous father and a gifted mother who supports her two children by singing in the subway. Sidibe tells the engrossing, inspiring story of her first job as a phone sex "talker". And she shares her unconventional (of course!) rise to fame as a movie star alongside "a superstar cast of rich people who lived in mansions and had their own private islands and amazing careers while I lived in my mom's apartment."

Sidibe's memoir hits hard with self-knowing dispatches on friendship, depression, celebrity, haters, fashion, race, and weight ("If I could just get the world to see me the way I see myself," she writes, "would my body still be a thing you walked away thinking about?").

Irreverent, hilarious, and untraditional, This Is Just My Face will resonate with anyone who has ever felt different and with anyone who has ever felt inspired to make a dream come true.
About the Author
---
GABOUREY SIDIBE is an award-winning actress who is best known for the title role of Precious, based on the novel Push by Sapphire. She has since starred as Queenie in FX's American Horror Story: Coven and Denise in Difficult People, and can currently be seen as Becky on Fox's smash hit sensation Empire. This Is Just My Face is her first book.  
Praise For…
---
One of Glamour's "Best Books to Read in 2017" One of Entertainment Weekly's "Most Anticipated Books for 2017" and "Best Books to Read in May" One of People's "22 Super-Revealing Celeb Memoirs to Read Right Now" One of Hollywood Reporter's "27 Books to Watch For in 2017" One of Elite Daily's "5 Celebs About to Light up the Red Carpet and Release Books in 2017" One of Bustle's "20 Best Non-Fiction Books Coming in May 2017"  "This memoir [is] a book you will want to give your daughter." —The New York Times "Sidibe's hilarious Twitter account is no fluke—the Empire actress' memoir about growing up in New York City and finding unexpected fame in Hollywood is sharp, witty, and wonderfully substantive." —Entertainment Weekly "A read that lives up to the unforgettable attitude of its name...This is Just My Face will make you fall in love with this funny, talented, gorgeous, bad bitch of a woman." —Glamour "A mix of complexity, intelligence and humor, Gabby's book promises to be as big a success as her acting." —People "Her talent to entertain...is evident on every page...Genuine and accessible...[Sidibe] has so much material from her childhood and adolescence that she might have been able to sell a memoir before she landed her first movie role...This Is Just My Face doesn't capture just Sidibe that celebrity, but Sidibe the storyteller." —The A.V. Club "Funny and revealing." —Pittsburgh Post-Gazette "Gabourey Sidibe's memoir isn't your average celebrity memoir. It's good. Really good. And not just because it's revealing (although that it is), but because it's well-written... Observant and funny, but not indulgent or try-hard." —Cosmopolitan Online "Gabby hilariously, radically, and fearlessly holds nothing back in This Is Just My Face: Try Not to Stare. And we love her for it." —HelloGiggles, "7 Celebrity Memoirs We Can't Wait to Read This Year" "A funny, smart memoir." —Nylon, "50 Books We Can't Wait To Read In 2017" "Unflinchingly honest." —Bustle, "9 Books By Celebrity Women Being Released in 2017 To Add To Your TBR" "Gabourey Sidibe has a knack for speaking her mind in ways both touching and hilarious." —Cosmopolitan, "10 Books You Need to Read in 2017" "[Sidibe] delivers a much-awaited memoir—wise, complex, smart, funny—a version of the American experience different from anything we've read... Irreverent, hilarious, and untraditional, This Is Just My Face takes its place and fills a void on the shelf of writers from Mindy Kaling to David Sedaris to Lena Dunham." —BookBub "You're the BOMB, girl!"—President Barack Obama   "Gabourey Sidibe's delightful memoir This Is Just My Face: Try Not To Stare offers a memorable look into what happens when a black girl's dreams come true, from the inside out. F —