Razzle Dazzle: New and Selected Poems 2002-2022 (Hardcover)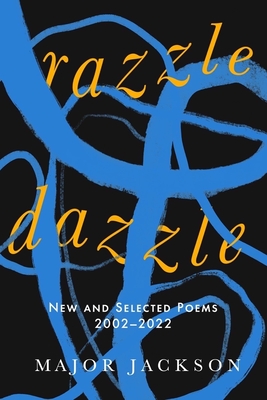 $26.95

Backordered - available date varies.
Description
---
One of Literary Hub's Most Anticipated Books of 2023



An exuberant collection of two decades of Major Jackson's passionately intelligent poetry.
A preeminent voice in contemporary literature, Major Jackson offers steady miracles of vision and celebrations of language in rapturous, sophisticated poems. Razzle Dazzle traces the evolution of Jackson's transformative imagination and fierce music through five acclaimed volumes: his Cave Canem Poetry Prize–winning debut, Leaving Saturn (2002), which captures the spirit of resilience in the Philadelphia neighborhoods of the poet's youth; Hoops (2006), which finds transcendence in the solemn marvels of ordinary lives; Holding Company (2010), which shifts away from narrative to explore the seductive force of art, literature, and music; Roll Deep (2015), which addresses human intimacy, war, and the spirit of aesthetic travel; and his vulnerable, philosophical latest, The Absurd Man (2020). The volume opens with over three dozen new poems that erupt into full-throated song in the face of indignity and invite us into a passionate experience of the world.
Taken together, these two decades of writing offer a sustained portrait of a poet "bound up in the ecstatic," whose buoyant lyricism confronts the social and political forces that would demean humanity. Equally attuned to sensuous connection, metaphysical inquiries, the natural world, and ever-changing urban landscapes, Jackson possesses a sensibility at once global and personal, driven by an enduring conviction in the possibilities of art and language to mark our lives with meaning.
Whether addressing racial conflict and the ongoing struggle for human dignity in America, bearing witness to the plight of refugees, or grieving the contradictory nature of humankind, these dexterous poems proclaim the remarkable power of renewal, justice, and accountability.
About the Author
---
Major Jackson is the author of six volumes of poetry. His honors include a Pushcart Prize, a Whiting Award, and fellowships from the Guggenheim Foundation and the National Endowment for the Arts. The poetry editor of the Harvard Review and the host of the podcast The Slowdown, Jackson lives in Nashville, Tennessee, where he is the Gertrude Conaway Vanderbilt Chair in the Humanities at Vanderbilt University. He is an elected member of the American Academy of Arts and Sciences.