Somewhere in the Bayou (Hardcover)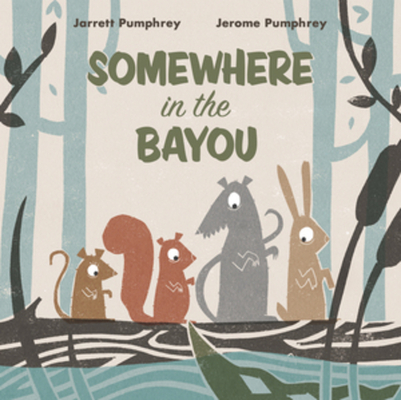 Description
---
Simple, subtle, and drolly funny, the Pumphrey brothers' newest picture book is a layered exploration of the foolishness of making assumptions and the virtue of curiosity.
When four swamp creatures looking to cross a river come upon a log that would allow for precisely that, they can't believe their luck. But a questionable tail adjacent to that log gives them second thoughts. Opossum believes it's a sneaky tail and that they must pass it quietly. Squirrel thinks it's a scary tail that can be cowed by intimidation. Rabbit decides it's a mean tail that deserves a taste of its own medicine. As the critters exhaust approaches one by one, Mouse, the smallest of the lot, observes their folly and adjusts accordingly. But is it the mouse or the tail that will defy expectations?
Pairing their iconic illustration style with a wry irreverence, the Pumphrey brothers have crafted a delightful tale that reminds us to think before we act.
About the Author
---
Jerome Pumphrey is an author/illustrator and a graphic designer at The Walt Disney Company. He lives in Clearwater, Florida.

Jarrett Pumphrey is an author/illustrator and the former cofounder and CEO of a tech startup. He lives in Austin, Texas.