Teach Like Finland: 33 Simple Strategies for Joyful Classrooms (Hardcover)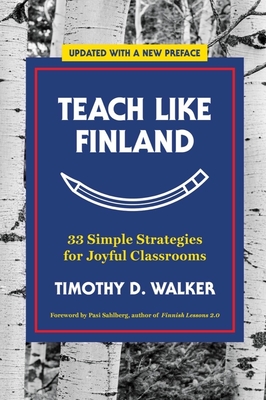 Description
---
Easy-to-implement classroom lessons from the world's premier educational system.
Finland shocked the world when its fifteen-year-olds scored highest on the first Programme for International Student Assessment (PISA), a set of tests touted for evaluating critical-thinking skills in math, science, and reading. That was in 2001; but even today, this tiny Nordic nation continues to amaze. How does Finnish education—with short school days, light homework loads, and little standardized testing—produce students who match the PISA scores of high-powered, stressed-out kids in Asia?
When Timothy D. Walker started teaching fifth graders at a Helsinki public school, he began a search for the secrets behind the successes of Finland's schools. Walker wrote about several of those discoveries, and his Atlantic articles on this subject became hot topics of conversation. Here, he gathers all he learned and reveals how any teacher can implement many of Finland's best practices.
Remarkably, Finland is prioritizing the joy of learning in its newest core curricula and Walker carefully highlights specific strategies that support joyful K-12 classrooms and integrate seamlessly with educational standards in the United States.
From incorporating brain breaks to offering a peaceful learning environment, this book pulls back the curtain on the joyful teaching practices of the world's most lauded school system. His message is simple but profound: these Finland-inspired strategies can be used in the U.S. and other countries. No educator—or parent of a school-aged child—will want to miss out on the message of joy and change conveyed in this book.
About the Author
---
Timothy D. Walker is an American teacher who taught in Finland for six of the eight years he lived there. He lives in Milford, Connecticut, and is author (with Pasi Sahlberg) of In Teachers We Trust: The Finnish Way to World-Class Schools.

Pasi Sahlberg is a Finnish educator who has worked as a schoolteacher, teacher-educator and policymaker in Finland and advised national education reforms around the world. Pasi has published over 100 articles and books about education and school improvement. His bestseller, Finnish Lessons: What Can the World Learn from Educational Change in Finland? has contributed to better understanding Finland's education system. He is a recipient of several education awards, including the 2013 Grawemeyer Award and the 2016 Lego Prize. Pasi is professor of education policy at the University of New South Wales in Sydney, Australia.
Praise For…
---
[Walker] provides an engaging and eye-opening vision that does not pit America against Finland, but lets us see what we can learn from each other... For teachers and education advocates who would like to understand one instructor's reflective quest toward educational improvement.
— Library Journal

Walker was nevertheless able to identify 33 strategies that could be easily introduced into American educational systems… [Walker's ideas] are geared toward the relaxed, flexible, welcoming atmosphere that works so well for both teachers and students in Finland. Teachers and parents will be intrigued.
— Booklist

Walker offers realistic tips on creating joyful schools, arranged according to five 'ingredients' of happiness: well-being, belonging, autonomy, mastery and mindset. . . . [T]he tips are prefaced with lively anecdotes from the author's own classroom experiences and often reveal how he overcame American biases to embrace them. . . . [T]hey all highlight how we can learn to value happiness more than achievement.
— BookPage

More joy in classrooms and less work for teachers as the way to improving student learning? Sounds incredible, but the Finns have figured it out, and Tim Walker explains how American educators can do the same in this engaging and important book. Teach Like Finland deserves to be widely read and discussed.

— Tony Wagner, author of The Global Achievement Gap and Creating Innovators

A few years ago, I spent my spring break visiting classrooms in and near Helsinki, trying to identify what the secrets of Finnish education were. Although the experience was enlightening, it turns out that all I had to do was read Tim Walker's book Teach Like Finland! Thanks to his American perspective, Tim was able to isolate the key differences in pedagogy, routines, beliefs, and purposes that will help teachers in all countries consciously make their classrooms more "Finnish." I highly recommend this book for all who aspire to be better teachers!

— Paul Solarz, 5th Grade Teacher and Author of Learn Like a PIRATE

Clear, thoughtful, and thought-provoking, this book actually does present 33 strategies that would, in fact, make teaching and learning both more joyful and more productive. My response in reading was never, "Where did that come from?" or "We could never do that!" Rather, I thought over and over, "Of course!" "How is it that so many of us have moved so far afield from what we know to be true?"
— Carol Ann Tomlinson, Ed.D., William Clay Parrish, Jr. Professor & Chair, Educational Leadership, Foundations, and Policy, Curry School of Education, University of Virginia

Tim Walker is one of the most thoughtful educators I've ever encountered. His observations as an American teacher working in Finnish classrooms will surprise many readers: Some traditional ideas we've pushed aside actually work well in Finland, some of Finland's most effective strategies originated in American schools. With refreshing clarity, Tim gets specific with daily interactions, policies, curriculum, procedures, faculty relationships, and student expectations. Including the voices of many Finnish educators, he answers the skeptics who question whether or not any of the Finnish schooling elements can be incorporated in America and elsewhere. There is substance here that adds to our important conversations about what works in schools. A gift to our professional selves and one to share with respected colleagues and any parents you know.
— Rick Wormeli, author of Fair Isn't Always Equal