The January 6th Report (Paperback)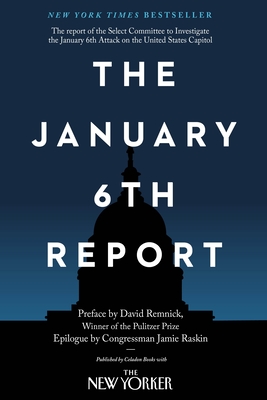 $17.99

Coming Soon - Available for Pre-Order Now
Description
---
Celadon Books and The New Yorker present the report by the Select Committee to Investigate the Jan 6 Attack on the United States Capitol.

On January 6, 2021, insurgents stormed the U.S. Capitol, an act of domestic terror without parallel in American history, designed to disrupt the peaceful transfer of power. In a resolution six months later, the House of Representatives called it "one of the darkest days of our democracy," and established a special committee to investigate how and why the attack happened.

Celadon Books, in collaboration with The New Yorker, presents the committee's final report, the definitive account of January 6th and what led up to it, based on more than a year of investigation by nine members of Congress and committee staff, with a preface by David Remnick, the editor of The New Yorker and a winner of the Pulitzer Prize, and an epilogue by Congressman Jamie Raskin of Maryland, a member of the committee.
About the Author
---
Select Committee to Investigate the January 6th Attack on the United States Capitol

David Remnick, the editor of The New Yorker since 1998, began his career at the Washington Post, in 1982. He is the author of several books, including The Bridge, King of the World, Resurrection, and Lenin's Tomb, for which he received both the Pulitzer Prize for nonfiction and a George Polk Award for excellence in journalism. He became a staff writer at The New Yorker in 1992 and has since written more than two hundred pieces for the magazine. In 2015, he debuted as the host of the national radio program and podcast, "The New Yorker Radio Hour," which airs weekly. Under Remnick's leadership, The New Yorker has become the country's most honored magazine, with a hundred and ninety-two National Magazine Award nominations and fifty-three wins. In 2016, it became the first magazine to receive a Pulitzer Prize for its writing, and now has won six, including the gold medal for public service.